Blogs are Important to Your Business: 7 Reasons 
---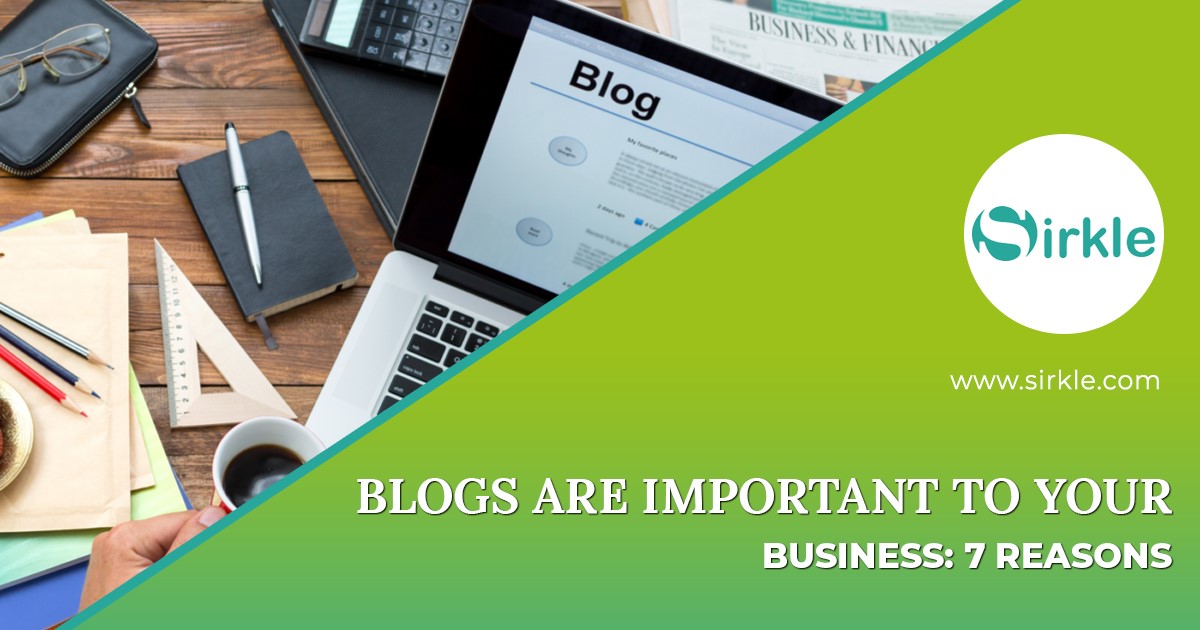 ---
In the world of social media marketing, some people wonder why blogging is so important.
No matter how big or small your business is, blogging is essential to your content marketing strategy.
Trying to figure out why blogging is important? Here are 7 reasons:
1. Increase website traffic:
You can create relevant content for your target audience by blogging, which is perhaps the most important reason to blog. Promote your website through blogging.
Your website should serve as the foundation for all of your social media platforms.
Depending on where your business is, it might be on Facebook, Twitter, Pinterest, or LinkedIn. Share links to your blog articles on social media, along with relevant visuals. Engage your social followers by driving them to your website.
In addition, direct traffic to specific landing pages on your site with inbound links directly within your blog articles.
2. Boost your SEO/SERP:
SEO is increased by blogs. In order to rank higher than your competitors, you need fresh content.
Make sure your articles contain keywords. Determine the keywords, topics, and categories your business should be found under. When writing your posts, use these words and related expressions.
You will naturally increase your search keywords whether you seek them out or not by blogging regularly about your business, industry, product, or customer lifestyle. The more intentional you are about your words, the more results you will achieve.
A website's keywords and topics are significant factors in how Google (and other search engines) locate your site for these keywords.
3. Establish your brand as an industry leader:
Your online business can suffer from an amateur-looking blog.
An excellent blog, on the other hand, demonstrates your company's leadership in an industry. Your business, service, or product will benefit from posting topics that show your expertise and resonate with your market.
As a merchant, for example, you should write about your products on your blog. By providing your customers with the information they need about the products they want, they will come to know you.
B2B businesses should post well-researched, articulate articles about their services. You should become the hub of your industry.
Building trust is also part of what you do. Your consumer will be more likely to trust you if you can demonstrate your knowledge in your field.
Learning from you benefits your customers as well.
4. Improve customer relations:
The blog provides another avenue for deepening your relationship with your customers. Your clients will be able to learn about your business or product from the comfort of your online home when they connect directly to your website.
Take advantage of it. Once more, build trust by providing information. You are the one who teaches your customers and they appreciate that you provide them with information.
Additionally, you should respond to comments and engage with your consumers on your other social media sites. Respond to their questions directly on your website if they have questions about a product you are writing about. Blogs are generally searchable for some time on your site, unlike many social networking sites. The comments you leave on your website last longer than you would on Twitter or Facebook. Your interactions will also be visible to others.
5. Use social media to create content:
You can easily share your blog posts across various social media platforms, including Twitter, LinkedIn, Facebook, and Pinterest. You can use this strategy to attract new and potential customers that may not have heard of your business yet.
Maintaining your social media presence without constantly creating content is easy when you repurpose your blog content.
You will also drive more website visitors to your blog if you use blog posts as part of your social media content marketing strategy.
6. Generating leads:
A blog is a great way to convert visitors into leads. You have the opportunity to generate leads if you add a call-to-action to each blog post since each one is indexed separately by search engines.
A call-to-action can lead to an offer, such as a free ebook, whitepaper, template, trial, or any other bit of content people would trade for their information.
7. A blog post drives long-term results:
To get people to your website, you don't have to pay for targeted ads or constantly post on social media. Blogging does just that.
Imagine that you publish a blog post. Despite getting a burst of traffic immediately after the post goes live, the post will continue to drive traffic for months or even years to come.
The workload, especially content creation, often puts businesses off starting a blog, especially those in the growth stage. Blogging can provide many benefits when combined with quality content and effective marketing strategies.
Got questions? Visit us @ https://bit.ly/2TbHYjr