2023's Top 5 Digital Marketing Strategies

---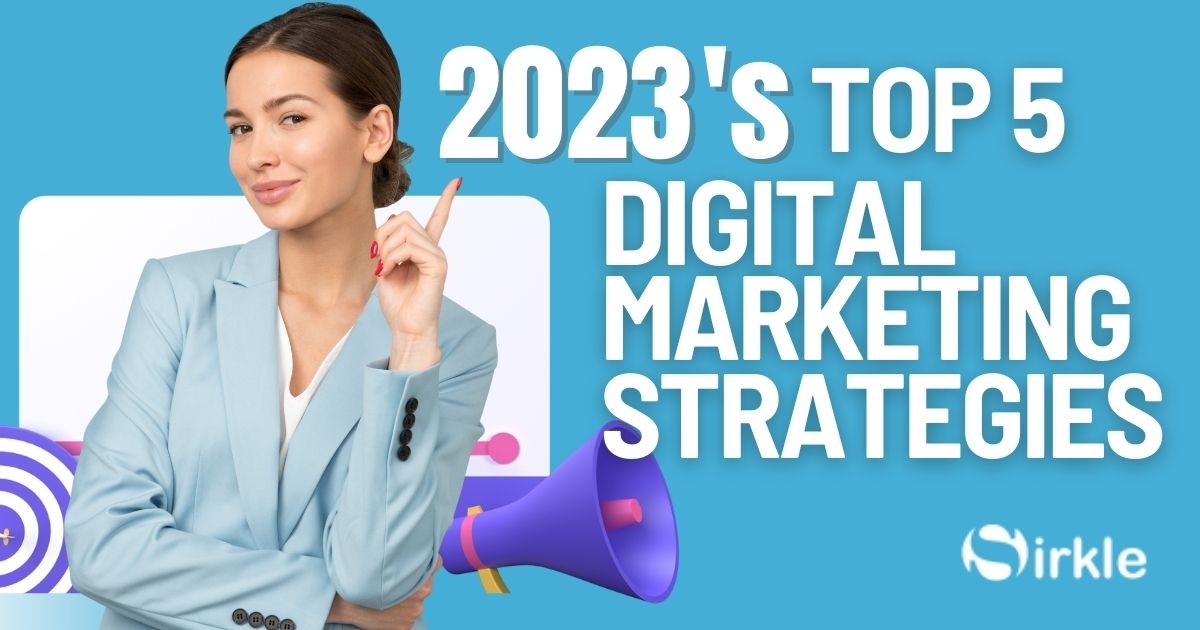 ---
It is more important than ever to have a comprehensive digital marketing strategy as businesses shift from traditional marketing to digital marketing in 2022.
Digital Marketing Strategies: Objectives
A digital marketing strategy can help marketers achieve the following objectives:
Engaging users increases brand exposure and authority.
Knowing who you are trying to reach.
Time and money can be saved.
Prospect for new customers and create fresh leads.
Monitors performance.
ROI can be increased.
Maintaining a competitive edge.
Decide what your advantages, disadvantages, opportunities, and dangers are.
Digital Marketing: 5 Effective Strategies
Let's examine some proven strategies for digital marketing that will help you plan an effective campaign.
#1: Content Marketing
The first thing you should keep in mind is that content should not be ignored. Provide high-quality content to get the appropriate engagement and establish trust.
You cannot achieve your marketing objectives with a digital marketing strategy that lacks the right mix of effective content.
By understanding what people want, you can create content that delivers solutions. Conducting online Q&A sessions is one of the most popular content marketing strategies.
No doubt, the simple answer is YES to the question, "Does content marketing matter in digital marketing?".
Using content marketing increases your website's exposure, quality leads, and sales by showing consumers how your products and services will improve their quality of life.
Content Types That Work
Let's now discuss which types of content to focus on in order to have the best chance of marketing success if we agree on the content marketing strategy's effectiveness.
For 2023, these are the most important content types.
Video
According to Statista, digital video viewership will reach 3.48 billion by 2023, with videos being an excellent tool for showing a brand's culture and purpose.
Utilizing video marketing will help you establish a digital presence on the internet. It will also allow your brand to reach customers across many niches.
Blog
In recent years, blogging has become a key communication platform for businesses as well as individuals.
When it comes to long-form content, blogs are ideal for businesses that deal with niche topics. If people are looking for info about what you do, a blog is a great way to give them what they need.A blog is also a great way to build trust in your brand.
There are many businesses that might benefit greatly from blogging, including home improvement, automotive, and software.
In addition to the two content types I mentioned above, there are a ton of other content types to implement. Below is a list of some of them.
Email Newsletters
Webinars
Podcasts
eBooks
Downloadable Guides
Tools and more.
#2: SEO/Search Engine Marketing
All aspects of your marketing campaign are integrated through SEO, which serves as the basis for all marketing strategies.
You'll be able to direct all of your marketing efforts towards the same goals when SEO drives your marketing plan. A popular goal of SEO campaigns is to make your website more usable so that it generates more leads, generates more conversions, and creates a better user experience.
Increasing your website's presence on the first page of search engine results (SERP) will increase your chances of getting visitors compared to your competitors. Because search engines are trusted, your website will appear higher on the SERP than your competitors'.
In simple terms, SEO helps your company by:
Boosting website traffic.
Developing authority and credibility.
Increasing visibility for a wide audience and more.
Types of SEO
To master SEO, you need to learn and experience a lot of different types. Here are a few you should focus on.
On-page SEO
The term "On-Page SEO" refers to site practices that help improve ranking and visibility. Keyword research, pictures, meta descriptions, title tags, and so on are crucial while improving On-Page SEO.
Off-page SEO
A technique known as off-page SEO refers to optimizing your website outside of your website to enhance search engine results pages (SERPs). This involves building backlinks from other websites to inform search engines that your website is of higher quality and is more important to them.
Technical SEO
Its main function is to improve the visibility of your website, and it focuses on the indexing and crawling of your website, the performance, security and interpretation of your site, and so on.
#3: Social Media Marketing
In addition to making several things easier for digital marketers, social media marketing enables them to reach out to the ideal clients, identify their needs and wants, and finally provide them with targeted solutions to satisfy their desires. For information sharing and reputation building, social media platforms are crucial.
You don't want to lose out on the free promotions and advertising that come with having a social media profile since 54% of customers use social media before making a purchase decision.
It is also important to share the right content with your targeted audience when using social media marketing.
Social media platforms ideal for digital marketers
Choosing the right social media platforms is an important part of developing your marketing strategy as a digital marketer.
Here are some of the most useful platforms for digital marketers. All of these platforms are extremely powerful, but some are more effective than others.
1. Facebook
With over 2.96 billion monthly active users, Facebook is the most popular platform for building brand communities.
2. YouTube
Around 79% of internet users use YouTube, which is the second most popular social media platform.
3. Instagram
Developing a brand on Instagram is a good idea for marketers. Instagram, which is based on visuals, can be a great way to establish your brand's identity. To succeed on Instagram, you need to be consistent. With Instagram's scheduling tool, posting can be automated.
4. TikTok
Last year, TikTok surpassed Instagram as the fastest-growing social media platform. In addition to being popular with the younger generation, TikTok is becoming increasingly popular with older viewers. It is the go-to platform for digital marketers who want to maximize organic reach quickly.
5. Twitter
65% of marketers use Twitter in their marketing strategy. Twitter is known as a micro-blogging site.
#4: Email Marketing
Campaign Monitor indicates that 57% of small businesses use email marketing as their primary marketing strategy, and email may be beneficial to all businesses. All small businesses should begin with email, whether it's for sharing business news, following up on purchases, or creating a newsletter, as one of the first places to start when it comes to digital marketing.
The purpose of email marketing is to build a strong relationship between your business and your customers. The first step to selling your brand is setting up an email list. This list should include all clients to whom newsletters should be sent.
In exchange for something they value, people will offer you their email addresses through a signup form on a company's website. This could include tips, a discount code, information, or guides.
#5: Podcasting
Your business may benefit from creating a podcast in unexpected ways, which makes it an excellent investment. The number of podcast listeners worldwide is expected to reach 424.2 million by 2022, which means that 20.3% of internet users will listen to podcasts. That's a big number, and it indicates that the public trusts and is familiar with them.
If you produce a quality podcast, your clients will return to your website for more information on your products, or they will subscribe to your podcast on a podcasting service.
Your podcast's website will receive more traffic if it consistently provides engaging and entertaining information. Not only that, but it's also more likely that listeners will purchase your offers if you consistently provide engaging and entertaining content.
Podcasts also offer great and diverse opportunities for digital marketers to advertise brands, products, and services. Podcast advertising has a seven-fold higher conversion rate than conventional website traffic.
Lastly,
There is no doubt that digital marketing is the most effective way of promoting a business. It is important to focus on several aspects, so don't get frustrated, and don't forget that Sirkle can assist you if you need help!
Got questions? Visit us @ www.sirkle.com and we're happy to help.