Digital Marketing For Small Businesses
---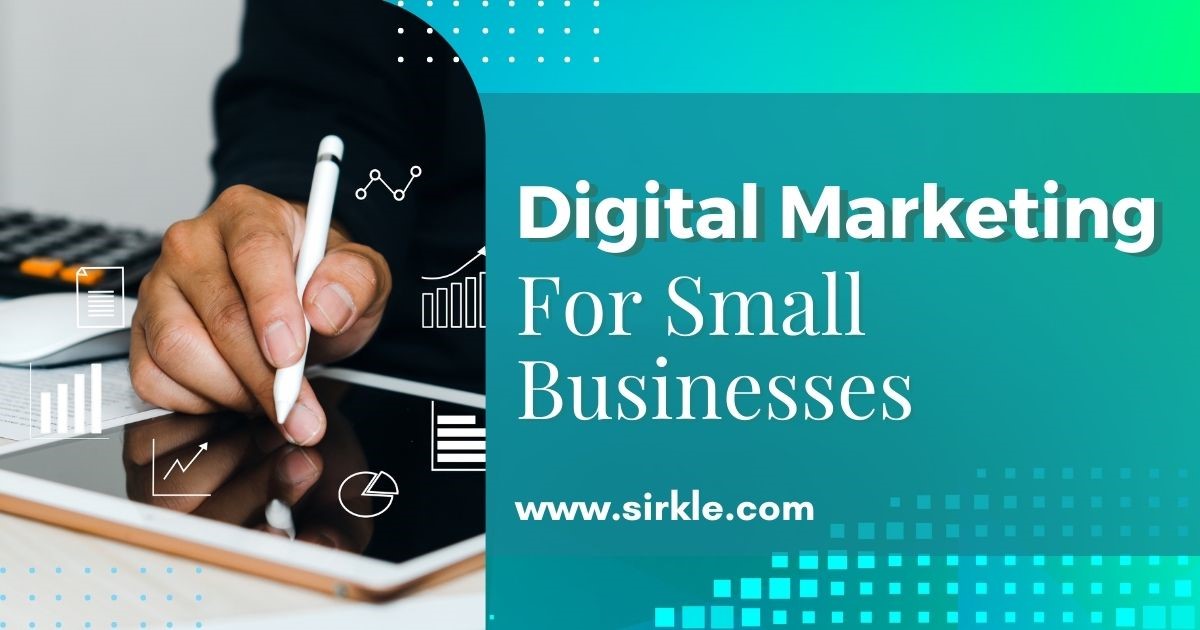 ---
Did you remember when promoting your business used to be as easy as printing newspaper ads, Xeroxing flyers, and posting billboards?
In the near future, not many people will be able to do so, whether they believe it or not. Even though these marketing tactics were once effective, digital marketing efforts now rely more on pixels rather than tangibles.

Small Business Digital Marketing: The Basics
You don't have to be overwhelmed by digital marketing information, even though there is a lot of it available. You can get started now by creating a simple marketing plan we will define, provide you with some examples, and guide you through the creation process.
Definition Of Digital Marketing
Electronic devices are used in digital marketing. There are two types of digital marketing: online digital marketing and offline digital marketing.
Online digital marketing relies on the internet, whereas offline digital marketing uses avenues like radio and television to spread the word about a business or product.
Role Of Digital Marketing
A product, service, or brand is advertised using electronic devices in this type of off-paper marketing.
By using digital marketing, you will get as many eyes on your business as possible, which will lead to more sales. The growth of your business allows you to continue expanding.
In digital marketing, brand awareness and lead generation are the two main objectives. Going digital maximizes your exposure and achieves both.
Digital Marketing Benefits

Take note of how many people are holding phones at any given moment when you're in a restaurant, on the subway, or even at home. We are addicted as a society. Over eleven hours of electronic media are consumed each day by Americans. Our waking hours are mostly spent watching television!
The internet has become almost everything we do today - socializing, shopping, watching movies and TV shows, listening to music, reading the news, reading science articles, and doing research. Every day, people are online. Reaching more people is likely if you go where they are.
In today's tech-driven world, businesses that don't use digital marketing will struggle to find steady streams of new customers, unless they're already established with solid roots and a reputation for quality.
It is still possible for businesses that have survived without the benefits of digital marketing to reach a wider audience by updating their advertising methods.
Among the benefits of digital marketing are increased website traffic, lead generation (which should result in more sales), and the ability to monitor the performance of various marketing tactics so you can determine which content is most effective.
Different types of digital marketing
Your business and you will benefit from digital marketing's multifaceted nature. Increasing brand awareness and promoting your products and services is easy with the help of social media.
The infographic below summarizes free or very low-cost tactics that you can start using right away if you are just getting started with digital marketing.
SEO (Search Engine Optimization)


It helps your website rank high in search engine results by optimizing it for search engines. Your website will appear when someone searches for a specific keyword, one that pertains to your business and appears on your website.
In SEO, your website's goal is to appear near the top of search results. Increasing website traffic is likely to increase brand awareness and lead generation for your business. Sales increase as a result.
Marketing Through Social Media


Through social media channels such as Facebook, Twitter, Instagram, LinkedIn, and others, social media marketing promotes your products, services, and brand.
Considering that most people have at least one social media account, this is a great way to get more eyes on your business.
Creating Content For Marketing
By creating content, you increase traffic to your website and make people aware of your business and its existence. Your product or service should also help your ideal customers solve problems or overcome pain points.
Most content marketing involves articles, blogs posts, e-books, white papers, infographics, and brochures people can read. Sharing helpful content on industry-relevant websites is a great way to promote your business.
Marketing Via Email


Marketing your product or service through email is another common type of digital marketing. Since most people on your email list are already interested in your products, email marketing is a great way to keep your message fresh in their minds.
Marketing Through Affiliates
A commission can be received either by advertising someone else's product and receiving commission or by paying someone else to advertise your products.
When you don't have a physical product to sell, marketing others' products and services can be an excellent way to earn commissions.
Affiliates help business owners advertise their products to audiences they wouldn't be able to reach on their own.
Pay-Per-Click Advertising


An ad is placed online and you only pay when it is clicked using pay-per-click advertising (PPC).
On search engines, these ads usually appear above organic, non-paid results. On Google Chrome, for example, the first few results for "outdoor furniture" mention "ad" next to the website name and description. These websites are paying for each click, but in exchange, they might have missed sales if they had not paid for those clicks. When compared to the sales that result from placing the ads, the small fee pales in comparison.
Digital Marketing Offline
Online digital marketing, or Internet-based digital marketing, refers to all of the types of digital marketing listed above.
The offline form of digital marketing, also reliant on electronic devices, is not necessarily Internet-based. Digital billboards (think Times Square) and mobile marketing are some examples of radio and television ads.