Here Are Five Advantages Of Responsive Web Design
---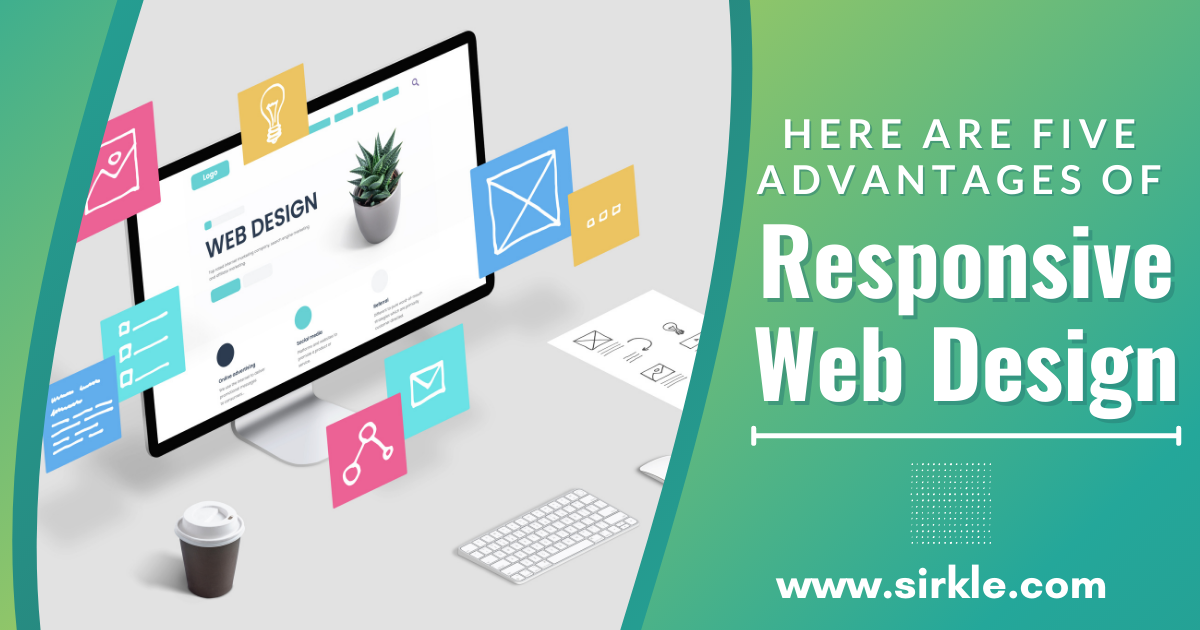 ---
It's a great first step to creating a website for your small business to market itself! However, business owners can no longer assume people are only shopping and scrolling on laptops and desktops. Now it's imperative to make sure your site is accessible from their smartphones, tablets, and e-readers-and that they have a great user experience.
Ninety-four percent of small business websites were considered mobile-friendly in 2019, which means their design will be consistent across devices. As a matter of fact, the only thing that changes is the scale. On a laptop, your site will appear larger than on a mobile phone. If nothing but the website's scale is different, certain features such as navigation may be limited.
Because of this, many businesses are moving toward responsive web design, which adapts to the device. In other words, the images and text layout of a page will adjust from a large desktop screen to a small phone screen. Mobile-friendly pages are more difficult to navigate than responsive designs, and you won't have to compromise the functionality of your site. As we mentioned in a previous post, responsive website design has five benefits:


More customers can find you.

The biggest problem small business owners face when designing or redesigning a website is a lack of time. Despite being a common obstacle, it is a crucial one to overcome. This is because 27% of customers use the internet every day to find local businesses, and 61% research a company and its products online before making a purchase. The modern shopper wants to know as much as possible about a business before visiting or clicking "Buy Now." So, if someone can find your business on a mobile device, Google will rank your site higher than those without responsive design. As a result, your product or service will be easier to find and your chances of selling will increase.

Consumers aren't just searching online for small businesses before buying; they're also using smartphones and tablets more than laptops and desktops. 81 percent of respondents in Pew Research Center's 2019 survey owned a smartphone, while 75 percent owned a PC or laptop (down from 91 percent in 2015). The ownership of tablets and e-readers, however, has increased from 45% in 2015 to 50% in 2019. This trend points to the need to develop a site that works on all devices, not just a PC.

You're making it as easy as possible for your customers to find, learn about, and buy from you when you have a responsive website that they can view from anywhere and at any time.


You will be credible to buyers.

It is the goal of every small business owner to make a professional, positive first impression on potential customers. Your product or service must not only be sold, but you must also build genuine relationships and provide useful information. How can you demonstrate that you can be trusted? Create an attractive, user-friendly website with mobile functionality.

BrightLocal found that 38% of customers use their phone or tablet at least once a month to find local businesses and that they were impressed with companies that had responsive websites. Mobile device research correlates with the fact that more users are doing research on products and services than in years past (see above). In addition, a company that keeps up with changes in mobile technology is more credible in the eyes of customers than one that has a desktop-only website.

An easy-to-use mobile site shows potential buyers you are willing to adapt to changing industry trends to meet their needs and preferences—making them more likely to rely on you to solve their problems.


You can be contacted from anywhere in the world.

Your main concern might be getting your potential customers to contact you after they've found and trusted you. It's good news for you if your website is responsive on desktop and mobile: 88% of consumers who search for a local business on their mobile device will call or visit that company within 24 hours.

With a responsive website, you can reach consumers (and have them engage with you) wherever they are. During their commute home or while waiting in line at the grocery store, potential buyers can easily contact you with their phone, tablet, or other mobile devices (non-computer). You should also include your location, phone number, and directions to your business. Adding these elements to your mobile site will further motivate a consumer to visit and buy from you. These are the four top pieces of information customers are searching for on mobile.

Users will be able to access your website from their phone or tablet and reach out to you from anywhere with questions, concerns, and feedback.


You will be able to compete better.

Your small business has worked hard to succeed, and you should be able to stand out from the crowd! When you consider how much mobile sales and searches have grown, it can be stressful to find yourself up against big businesses. According to Statista, 52.2% of all global web traffic and 63.5% of e-commerce sales were generated by tablets and smartphones in 2018. Despite these figures being global, they also show a trend for local businesses: Having an easy-to-use mobile site increases your chances of enticing customers.

Do you need more proof? According to a Google survey of 1,088 adult smartphone users, 67% of users are more likely to buy a product or use a service from a company with a responsive website. Sixty-one percent of respondents in the same study said they'd go to a competitor if the first company didn't have a mobile-friendly website. Be sure not to let your competitors get ahead by ignoring your own responsive web design!

The key takeaway: Make sure your website looks (and works) its best on desktop and mobile so your customers can easily learn why your company stands out from the crowd.


It will be easier for them to buy from you.

It's a smart move to allow your target audience to learn about your product and buy from you online due to e-commerce's rise in small and large businesses alike. You can't just assume your desktop's e-commerce platform will look the same on your tablet or smartphone. Be sure your content is optimized for different screen sizes in order to provide the best user experience. In order to avoid bothering busy shoppers, you should ensure that your mobile site loads within three seconds.


What is the significance of this? Eighty-four percent of customers reported that they had difficulty completing a transaction on a tablet or smartphone; this problem only grows as the holiday season approaches. Moreover, those who have a disappointing buying experience are more likely to turn to another business in the future - or even before they have finished the difficult transaction. You're making it hard for customers to buy your product or service if your made-for-desktop website doesn't work on mobile devices.
Don't impose unnecessary buying obstacles on your potential buyers. Simplify their lives with a responsive website!
Set up a responsive website for your business to ensure that your customers can find you, interact with you, and buy from you! Having a website not only helps you compete with other local businesses (and rise above those without one); it also makes you appear more credible and professional to your target audience. Last but not least, responsive web design will provide a stress-free user experience and encourage potential customers to buy from you!
Our proven marketing strategy helps promote your business. Our goal is to create impressive branding to gain a competitive advantage over rivals and grow your circle of clients.


Got questions? Visit us @ https://bit.ly/2TbHYjr