Holiday Season Is The Best Time To Promote Your Business

---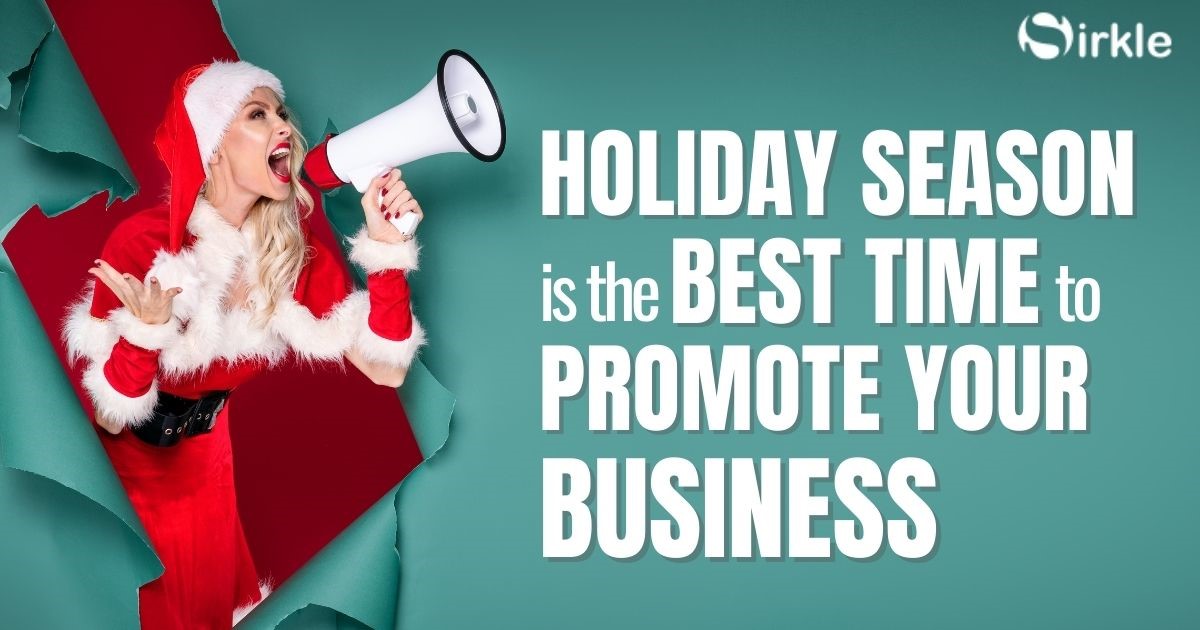 ---
Consumers are looking for new places to discover and explore during the holidays, which is a great time for businesses to promote their products and services. To take advantage of the holidays as an opportunity to grow your business, here are some tips:
What makes the holiday season a great time to promote your business?
You can easily promote and expand your digital marketing strategy during the holidays, according to Forbes, which is the best time to connect with your customers. There is a general feeling of happiness surrounding the holiday season, even though it means something different to everyone. In order to capture the seasonal high and increase sales, we need to come up with our best holiday marketing strategies now.
People are more likely to purchase new products during the Holiday Season, so it is the best time to market your business. Sirkle can assist you in doing so!
Users can create promotions for their business's products and services using Sirkle's promotion tool, which can be shared on Twitter, Facebook, Instagram, and LinkedIn.

NOW THAT I KNOW HOW TO RUN A GOOD HOLIDAY MARKETING CAMPAIGN, CAN YOU TELL ME WHY I SHOULD TRY IT?
Our team understands that brainstorming, strategizing, designing, and implementing a completely new campaign takes time and effort. Our holiday marketing strategies have worked for some brands as their social ads, promotions, SEO, and copy all worked together to make their holiday marketing strategy successful.
IF YOUR COMPANY HAS GREAT SOCIAL MEDIA ADVERTISING:
Make sure you know what tricks work for you, and use them! Schedule your ads to run during the hours when your consumers are shopping for Christmas. Not only are you guaranteeing an amazing user experience (because your consumers are seeing exactly the content they need, exactly when they want to see it) but you are using your dollars in a smarter way.
Knowing your own consumer base, along with examples of what other companies have done - and seen success with - will enable you to better run ads so you increase traffic and conversions.
THE BEST WAY TO ENGAGE YOUR CONSUMER BASE IS THROUGH PROMOTIONS:
It is important to know what types of promotions work best to connect with your customers as well as what types do not. It is only you who know your consumer base better, so take advantage of this knowledge by catering to their specific needs and wants. In order to get the most traffic and conversions possible, keep track of which keywords work for you and use them in your promos.
Make sure you understand how Google algorithms work, and tailor your SEO so your promotions get the most exposure. Timing media coverage of your promotions smartly will also help you reach the widest audience possible.
A COPY THAT WORKS WONDERS:
A great copywriter can make a big difference when it comes to creating successful content. You won't get much out of your social ads and promotions if your copy isn't on point. Writing great copy isn't hard, but it takes time and effort. Develop a steady stream of content, or take the time to improve old posts to make them even better. You can improve your holiday marketing strategy by creating good, quality SEO copy to pair with your visual content.
PROMOTION TIME!
People often think about changing their lives during the holiday season, whether it's buying a new home or getting glasses. You can promote your business at this time because it allows you to reach out to and connect with more potential customers than ever before, which is a great opportunity! Put your holiday marketing ideas and strategy to work to make it the best quarter of the year for you. Grab a peppermint latte and your laptop, and get to work: your social ads, promotions, and a copy will benefit. Sirkle can handle all of this for you if it sounds overwhelming, or if you'd prefer to drink hot cocoa with your family.
Got questions? Visit us @ www.sirkle.com and we're happy to help.