How To Attract People To Your Website & Keeping Them Coming Back
---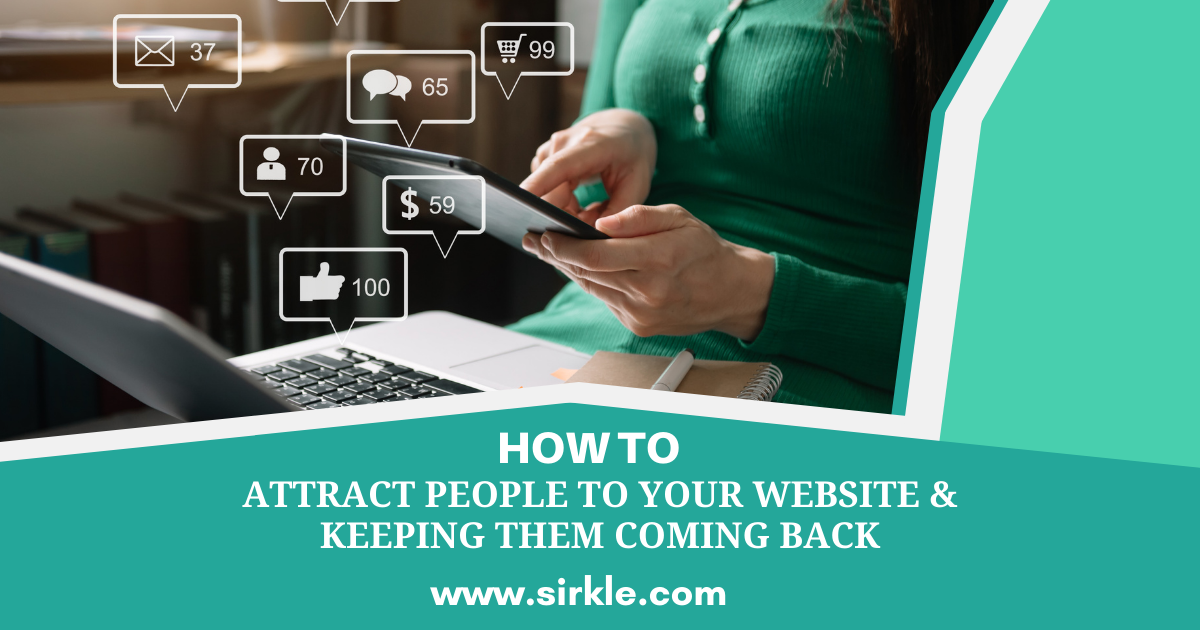 ---
Your next step after having a website is to spread the word about it. Getting visitors to your site doesn't end with getting one-time visits; successful websites have a following and repeat visitors. The purpose of this article is to introduce some of the basics of how to attract visitors to your website (and keep them there).
The Importance of Site Traffic
Your website's success depends on the number of visitors you get and the quality of those interactions, no matter if you're building a brand or selling a product. Online shops are a good example of this, where more traffic often means more sales. Having traffic is also important if you have a blog since it can help you reach more people and inspire and affect more people. You can also earn more revenue from sponsorships and advertising if you get more visitors. The key to growing and thriving online is to bring more traffic to your site no matter what type you have.
How To Begin?
Several ways are available to you for driving traffic and building your online audience. Your budget and goals will determine what's right for you. To promote your website, here are some free and paid options:
Advertising Online
Google's online advertising platform can help you reach customers searching for businesses like yours on Google Search and other Google products. Google Ads lets you pay only for results, such as clicks to your website or calls to your business.
Use of Social media
Creating an active social media presence is a way to grow an organic following. Promoting photos, content, and updates related to your website and brand can be done on platforms like Instagram, Facebook, and Twitter. Pinterest is especially popular among women, while Snapchat may help you reach a younger audience.
Engaging your audience via social media is a free and effective way to reach them.
It is important to remember that social media is all about connecting with your audience and building a community. Use relevant hashtags, create and post useful content, and be authentic. Influencer marketing and collaboration are also effective.
Search engine optimization
Search engine optimization (SEO) refers to everything you can do to make your website more visible on search engines like Google. It is common for people to click on the first few unpaid search results that appear in a search, so investing time in improving your SEO is definitely worthwhile.
Engaging and attracting an online community can be achieved by producing content your target audience will find useful. If a food store started a recipe blog, or if a financial advisor created a newsletter about saving for retirement, this could be an example. In addition to blog posts, videos, emails, podcasts, lists, magazines, how-to guides, and infographics, content marketing also includes social media marketing.
In order to connect your site with the offline world, word-of-mouth marketing is always an effective tool. Getting in touch with your friends and people in your network is a great place to start. Moreover, you can use other opportunities to connect with your audience face to face, including volunteering in your community, speaking engagements, and organizing and sponsoring events. Promote your site wherever you go.
Online, you can track all of the metrics you need to gauge the growth of your audience, and this is one of the advantages of being online. How can you monitor your site's performance? Here are a few simple methods.
In order to gain deeper insights into your visitors, Google offers a variety of tools to measure website data. These range from basic tools to specialized business analytics. Visit Google Analytics for more information.
Data measurement is available on most social media platforms. Keep an eye on both your number of followers and their growth over time, as well as their engagement with your posts (1–5% engagement is considered good).
You can use some of these indicators to help you optimize your efforts once you begin building your online audience.
Your site traffic is high, but you don't get many sales or subscribers? It could mean that your website needs to be improved to retain visitors and inspire their desired actions (such as purchases), or that you are targeting the wrong type of visitors.
We recommend conducting usability testing on your website if you want valuable feedback on it. Testing means letting real people try out your site and watching their reactions.
It may be a good idea to strengthen the connection between your website and your social media accounts if you are getting a lot of traffic on one social media platform, but it isn't crossing over to your website. For your audience to remain cohesive, it's vital to cross-promote across platforms when you create and post content in one place. Make sure that your social media posts include links to relevant pages on your site, as well as links to your social media accounts, so readers can easily like and follow you on social media.


Got questions? Visit us @ https://www.sirkle.com