How To Drive Traffic To Your Blog Pages
---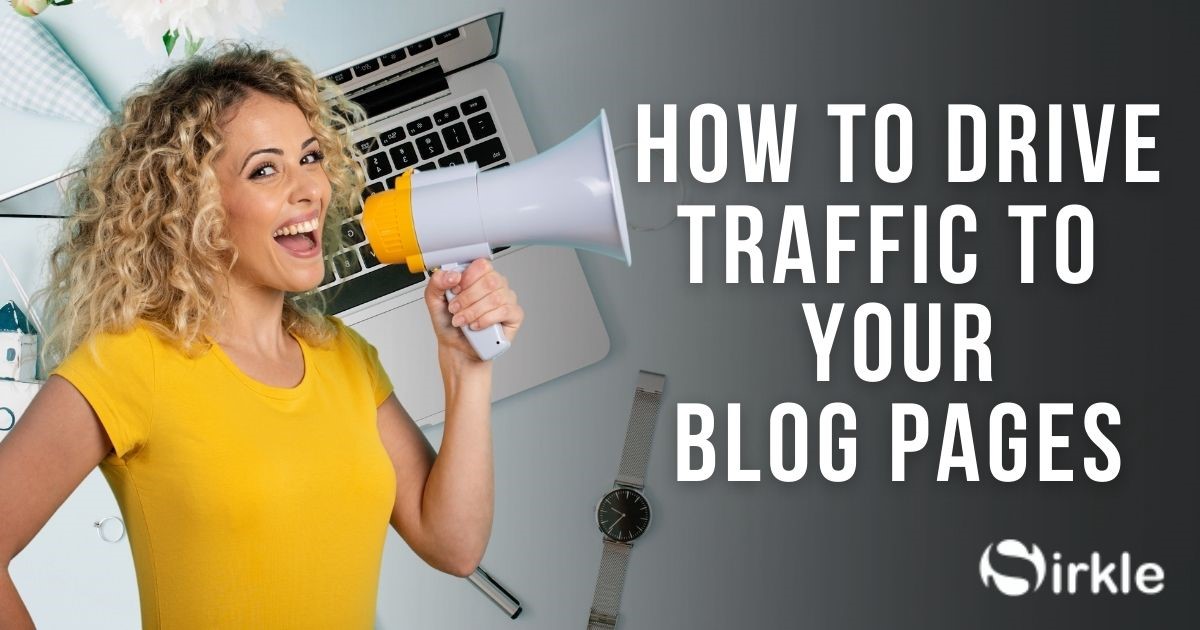 ---
It is essential that your blog gets the traffic you need since you'll spend a great deal of time researching and generating the best information for your target audience.
The right promotion strategies can help you get the most out of your blog content and even monetize it. Blogs allow you to nurture existing relationships, reach new customers, and drive traffic to your site.
Using the best tactics to promote your blog on the most appropriate channels, you'll be off to a great start.
Your blog should be promoted before it is launched
Promoting your blog with the best tactics
Your content should be promoted in the following places:‍‍‍
Your Blog Should Be Promoted Before It Is Launched
It is important to organize yourself before promoting your blog so that you are ready to go public. Before promoting your blog, you should consider the following items:
Audit the technical aspects of your website
Identify content for your website
Enhance the content's SEO
Develop a loyal readership base
Check out the social media buttons
Google Analytics is a good tool to set up tracking
Audit Your Website's Technical Aspects
Having a glitchy, slow-loading website leads to a high bounce rate. This occurs when a visitor leaves your site after a short period of time due to slow loading speed or difficulty navigating. With a dependable web hosting service, you can prevent visitors from experiencing frustrating experiences. The loading speed of many websites can also be enhanced by plug-ins.
Ensure that all links on your site, including CTAs and social sharing buttons, work before inviting visitors to your well-developed and researched blog.
Use a plugin like Yoast or SEOPress to enable search engines to find and crawl your blog, which will allow people to discover it.
Research Content
When you provide useful content to your target audience, you're more likely to gain subscribers and leads. Consider what interests or worries your target market, and how you can solve their problems.
You might be able to pull off a more playful tone in the subject area of the graphic design if you get a sense of your audience. Consider your tone of voice based on your customer.
Once you understand your audience and customer, you can look for popular keywords that target your niche. Several tools are available to help you with keyword research, such as Moz Keyword Explorer, Semrush, and Google Trends. Moz Keyword Explorer, Semrush, and Google Trends gather popular search data from around the world.
Identify the content type that will work best with your audience. There are many types of content you can use, such as case studies, infographics, lists, videos, and how-tos. ‍
The Optimization Of Content Should Be Undertaken
Search engine optimization (SEO) is important for the visibility of your blog on search engines. Both on-page and off-page SEO strategies can improve your blog's organic search engine results.
If you want to improve your on-page SEO, sprinkle keywords throughout your blog content, blending them with the content. Use keywords in the title, heading, first paragraph, and subheadings. If an image cannot be loaded, an alt text copy appears that is readable. In addition, alt text helps search engines index images. Include compressed images, and add alt text for vision-impaired readers.
Off-page SEO involves strategies that are not on your webpage and helps increase brand authority and website ranking. Some examples include building links, maintaining an active social media presence, posting on blogs, becoming a guest on podcasts, or getting reviews. ‍
Develop A Loyal Readership Base
In order for your blog to be a success, you must have readers. But how do you get them?
You can establish and build a loyal readership by using email subscribers, social media, and a call-to-action on your website, among other ways. By curating an email list, you can notify subscribers directly when you post new content and give your blog the attention it deserves. The use of hashtags and strategic tagging on social media can also increase engagement by sharing links to specific blog posts.
In case your customers are already on your website, include a link to your blog post if it is relevant to what they are already looking at. For instance, if you are selling rugs, you can include a link to a post about rug care. Readers can subscribe directly to your blog with a CTA button, one best practice.
The Social Media Buttons Need To Be Tested
If you want your visitors to share your content, include social sharing buttons, such as Facebook, Twitter, and LinkedIn, on your site. Always test these social sharing buttons before putting them live, however, to ensure they work properly.
With working social media buttons, readers can easily share your awesome content.
Google Analytics Is A Good Tool To Set Up Tracking
Your content marketing strategy should be based on what your customers like or dislike, measured by analytics tools.
The following are some ways to monitor viewer activities using Google Analytics:
Search results that are organic (i.e., unpaid)
Visits that came directly to your blog (from those who typed in your blog's URL into their search engine)
Recommendations (those from other websites)
Pay-per-click (those who click on an ad)
From your emails, how many visitors have you received
Your blog's performance will be monitored continuously based on the parameters you set.
Your Blog Needs To Be Promoted In The Best Way Possible
Consider these tips when promoting your blog to increase traffic and nurture relationships:
1. Content repurposing
By repurposing content, you can save time and give your blog or other content a new life. For example, you can make an infographic, a video, or a podcast from older content, or you can share quotes from your blog on social media.
Reusing older content, rather than creating new content from scratch, could save you time, money, and effort. It may also add interest and appeal to a wider audience.‍
2. Link building is an investment
Building links for your blog can help boost traffic and build credibility with your target audience. Inbound links (also known as backlinks) are highly rated by search engines and are a valuable strategy for promoting your blog.
Make your blog easy to read and include information that readers will be interested in. Incorporating this strategy creates great content that inspires sharing.
If you identify your most popular blog posts, you can tweak them to make a new post with a link to the original. You can also incorporate links to related topics of interest at the end of your blog.‍
3. Take advantage of social media to promote
Use hashtags to label content and make sure the right people find it. Don't underestimate the power of social media platforms to boost blog traffic. Consider including an eye-catching image or video, especially on more visual platforms like Instagram. Social media users are often compelled to read a post because of an image or video. You will soon be able to determine which social media channels are most appropriate for your niche so you can concentrate your efforts there.
Your social media accounts should include links to your blog. This will make it easy for readers to catch up on older posts and perhaps even share it with others.
4. Promote your business through paid advertising
The majority of us like free stuff, but there are some benefits to paying for advertising. Paid ads may increase visibility and expose your blog to a larger audience.
A paid ad placement on search engines like Google can help you promote your blog. It can also offer a gentle nudge to viewers who have already visited your site.
5. Use email marketing to your advantage
Building a list of leads, creating enticing subject lines, and creating compelling email content will help your blog become a resource for conversions.
For starters, use a subscribe button on your site, offer a discount or deal to opt in, or have a loyalty program form on your site to build an email list.
Freebies or discount codes are often enough to get people to give up their email addresses. ‍
6. Maintain a regular posting schedule
By providing your audience with the most current information, you add value to your brand. Show your audience you are committed to providing the most current information.
Stay on top of your content by creating a content calendar, which includes upcoming posts, status updates, and scheduled promotions. Create your own template, or choose one of several online templates which can help you plan your posting schedule. ‍
7. Identify influencers and contact them
Besides providing credibility to your brand, influencer marketing can increase leads, sales, and traffic to your site.
Try to build a relationship with influencers before asking for their help. You can do this by linking to their social media accounts or blogs.
It is possible to build your audience by partnering with influencers. Influencers provide you with a way to connect with your audience. They share what works for them and how you can also use it to your advantage. ‍
8. Become a guest blogger
Your own blog already has your expertise; why not lend it as a guest post? A guest post plugs your brand and helps you attract more visitors.
By producing and posting high-quality content and showing your value as an example, you can get your brand in front of fresh eyes. It may take a few tries to get traction, but you will gain traction gradually.
Using an expert blog writer via Upwork may be a good choice if you're looking to produce content that attracts other bloggers.‍
9. Participate in related blogs by networking and commenting
You can get your blog noticed by networking and commenting on related blogs. Readers will be more likely to check out your blog if you provide them with useful information (and even the blog's owner). However, make sure your info is relevant to the topic and doesn't just link to your blog. Commenting with just a link to your blog is often perceived as spammy.
10. Answer a Quora question
There are thousands of questions on Quora that need answers, so you can use it to help drive traffic to your blog.
If you don't want to spam people with a link to your blog, find your niche and answer their questions in the comments section. Consider including your blog URL only in your profile, so readers can easily refer to it if they find your information helpful.
You're likely to find a virtually endless supply of topics for your own blog. This practice will help you to get your name off and you'll learn more about industry trends. ‍
11. Performance optimization for your website
In order for a piece of content to be successful, the website must be as good as the content. If readers experience a poor user experience, they are more likely to leave and might not return to your website in the future.
For both new bloggers and experienced ones, WordPress is one of the best hosting options—fast, reliable, and secure. Your site can be optimized for search engines and social media, your site performance can be analyzed, and weaknesses, such as oversized images or broken links, can be identified using the onboard SEO tools. ‍
12. Become a webinar participant
The fact is not everyone is interested in reading lengthy blog posts and articles. Webinars offer a variety of ways to deliver content that may appeal to different groups of viewers.
It is great to conduct webinars for complex topics or special presentations. When viewers find your content useful, they will search for more information. Webinars can become valuable tools for connecting with your audience and building your brand as a thought leader. Using this opportunity to link to your blog is a great idea.
13. Forum participation
It's likely you can find an online forum for any passion, interest, or issue. Share your expertise with others and raise your profile. If you have written about the topic before and think others could benefit from the information, this is a good place to link to your blog.
You can ask questions on online forums such as Reddit subreddits and Discord communities, which offer a more personal connection with other users.
14. Events must be organized‍
You can connect with industry professionals and new leads outside the digital space through events.
Specialized events may help you gain exposure and readers for your blog and help you grow excited about your brand, for example, small seminars or workshops.
15. Set up a network or group of your own
Creating your own social network and establishing authority can be accomplished by joining online communities, such as Facebook Groups, as well as sharing valuable information with other members.
You should advertise your blog when you build an online community, especially if you want to go into greater detail about a topic without losing readers' attention through lengthy posts.‍
Your content should be promoted in the following places:
In order to reach your target audience and increase your lead, you should know where to distribute your content. The main distribution platforms are:‍
By email
Your latest blog post can be included in the email so that it is sent directly to your customers' inboxes.
By sending an email, you can connect with industry experts and even attract guest writers. To determine audience interest as you gain readers, track how many clicks your blog link receives. By doing this, you can tailor content to meet the needs of your readers (and potential customers). ‍
Internet social networks
If you post blog content on Instagram, Facebook, and LinkedIn, you may be tempted to post the content on each channel using the same content. However, each platform has its own audience and expectations.
Obviously, you will post high-resolution pictures and Stories linked to your blog on Instagram if you want to target Facebook users. If you want to target Facebook users, you might share videos and curated content from your blog. Because LinkedIn is geared toward working professionals, you should post content about careers, professional growth, and company news on your blog. ‍
Visiting the website
Your business website is a powerful marketing tool, and shouldn't be overlooked when it comes to promoting your blog. Dedicate a page link to your blog and direct visitors to it with a CTA button. Subscribers can sign up for new blog posts by using a subscription button.
In addition, include a link to your blog on all communications channels, such as your bio on social media and email signature line. You can then give your audience easy access to your work.
Make your blog as effective as possible
In order to make the most of your blog, you need to combine content marketing tactics with other strategies. You may be able to increase your success by partnering with an independent professional.
Your blog needs to be in front of the right people at the right time, so you can get help with link building, SEO, or even blog writing via Upwork.
Got questions? Visit us @ www.sirkle.com and we're happy to help.