Improve Your Digital Presence with Marketing Strategies
---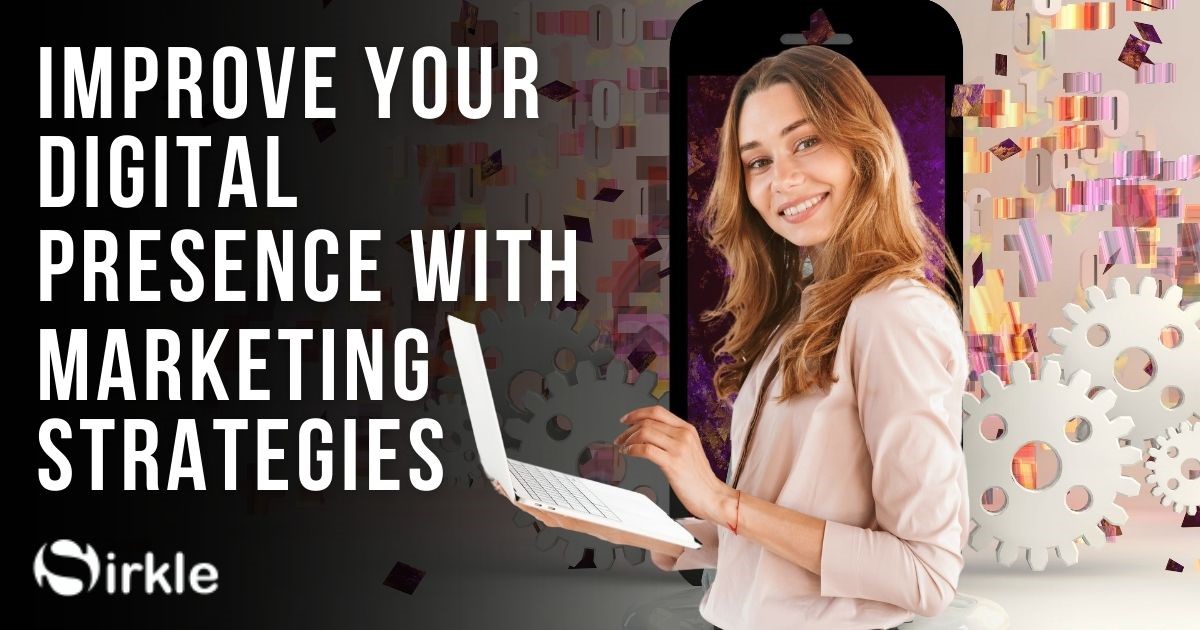 ---
In today's marketing climate, would it be correct to assume that digital is a key component? Probably.
You want to reach customers and observe their behavior, where they spend their time, and where they spend it. Businesses are almost always online and on the go.
Nevertheless, you can quickly become overwhelmed by this ever-changing digital landscape when you grow your business. The question is, how can you efficiently create, fine-tune, and maintain an agile digital marketing strategy when you are also juggling several other tasks and responsibilities?
Marketing Strategies: What Are They?
The purpose of a marketing strategy is to achieve specific marketing-related goals (or goals) in a focused and attainable manner. This method considers what your business does well and what it is lacking when it comes to the goal you set, so it makes it easier for you to achieve it in the future.
How To Market Your Small Business Digitally
A Comparison Of Strategy And Tactics
Tactics are specific and identifiable steps within your strategy to ensure you reach your goal. A strategy is your destination. The tactic is how you get there.
Regardless of whether you are marketing or not, every strategy must include three components:
1. What is the problem you are facing?
2. Dealing with the challenge through a guiding policy
3. To achieve policy objectives, targeted actions are required
The marketing strategy for your business may consist of several moving parts, each with its own objective. As a result, planning your strategy can be frustrating at times.
Digital Marketing - What Is It?
By using online channels such as organic search, social media, paid ads, and other web-based mediums like your website, a digital marketing strategy allows your company to establish a web presence. In order to gain new customers for your brand, digital marketing strategies aim to increase awareness.
Using carefully chosen mediums, your business can achieve specific digital goals with a digital marketing strategy. "Digital marketing strategy" and "digital marketing campaign" are often interchangeable, just as they are in marketing strategies versus marketing tactics.
Digital Marketing Campaigns: What Are They?
An online marketing campaign is a building block or an action that moves you toward a specific goal as part of a digital marketing strategy.
As an example, you might run a Twitter-based digital marketing campaign if your digital marketing strategy is geared toward generating more leads. It might be a good idea to share gated content on Twitter that's performing well for your business to generate more leads.
Digital Marketing Strategies: How Do You Create Them?
Create a buyer persona.
Develop a strategy for digital marketing and determine what tools you will need to achieve your goals.
Analyze the assets and channels you already have for digital marketing.
Organize your own media campaigns by auditing and planning them yourself.
Choose the right tools for your digital marketing strategy.
Report on the situation.
1. You Need To Create Buyer Personas For Your Product.
Creating detailed buyer personas is the first step to any effective digital marketing strategy - digital or otherwise.
Your business's target audience can be surveyed, interviewed, and researched to create buyer personas that represent your ideal customer(s).
Your marketing strategy may not be effective if based on assumptions about your audience, so whenever possible, this information should be based on real data.
You should include both customers and prospects in your research pool, as well as people who are not part of your contacts database but who are aligned with your target audience.
In order to create your own digital marketing strategy, what information should you gather about your own buyer persona(s)?
If you sell high-cost or low-cost products, or whether you are a B2C or B2B company, will depend on your business.
You can tailor your business to these points by fine-tuning them.
Information about the population and the economy
The following address:

Analyze your website traffic to find out from which countries it is coming.

Approximately:

Identifying trends in your prospect and contact database may bring you this data, depending on the nature of your business.

Earnings:

As people might be reluctant to share sensitive information via online forms, personal income should be collected through personal interviews.

Title of the position:

Most business-to-business companies can get an idea of this from their existing customer base.
Psychographic and qualitative data
Objectives:

If you already know what challenges your product or service solves, speak with real customers and internal customer service agents to cement your assumptions.

Problems:

To gain a better understanding of your audience's challenges, speak with customers, sales and customer service representatives, and anyone else who interacts with customers.

Interests/Habits:

When developing content for your brand or partnering with other brands, try to gather information about customers' hobbies and interests. For example, if you're a fashion brand, it's important to know if large sections of your customers are also interested in fitness and well-being.

A priority is:

Identify the most important aspects of your business to your customers and audience members. For instance, if you sell B2B software, you need to know your audience values customer service over competitive pricing.
It is possible to create highly accurate buyer personas for your business by combining all of these details.
2. Develop A Strategy For Digital Marketing And Determine What Tools You Will Need To Achieve Your Goals.
You must always tie your marketing goals back to your business fundamentals.
You might set a marketing goal of generating 50% more leads than last year through your website if you want to increase online revenue by 20%.
It is imperative that you measure the success of your digital marketing strategy along the way, whatever your overarching goal may be.
3. Analyze The Assets And Channels You Already Have For Digital Marketing.
To avoid feeling overwhelmed or confused, it's a good idea to first consider the big picture when reviewing your existing digital marketing channels and assets.
Analyze your existing owned, earned, and paid media by categorizing each asset or vehicle in a spreadsheet.
A Framework For Owning, Earning And Paying Media
You can categorize and decide what is a good fit for your strategy by using the owned, earned, and paid media framework.
A Media Network Owned By An Individual
In other words, channels owned are digital assets owned by your business - such as websites, social media profiles, blog posts, images, etc.
Also included in this category is off-site content you own that isn't hosted on your website (e.g., a blog published on Medium).
Publicity Earned By The Brand
Word-of-mouth marketing is an effective way of earning media exposure. Earned media is when you receive recognition as a result of your efforts, whether it be the content you've distributed on other websites (e.g. guest posts), PR work you've done, or the customer experience you've provided.
Press mentions and positive reviews can help you earn media coverage, as well as people sharing your content with their networks (e.g. via social media channels).
Media Bought For A Fee
You can use paid media in many ways to reach out to your buyer personas.
AdWords, social media marketing, native advertising (e.g. sponsored posts on other websites), and other mediums to increase visibility include things like Google AdWords.
Let's look at an example now that you understand what the framework entails.
As an example, you may create a piece of content on your website that helps generate leads. But you would like to work with different components of the framework instead of just owned, earned, and paid media.
By having the content shareable, you can increase lead generation and traffic to your landing page. Earned media will allow you to amplify your lead generation and drive more traffic to your landing page.
Investing in Facebook ads can help your content reach a larger audience, particularly if you post about it on your Facebook page.
It is in this way that the three elements of the framework work together — even though it isn't necessary for success. For example, if you already have both owned and earned media, you might not have to spend money on paid media. Your digital marketing strategy should incorporate the channels that work best for your business after evaluating the best solution to help you reach your goal.
You can now decide what should be kept and what should be cut based on what's already being used.
4. Own Your Media Campaigns And Audit Them.
It is almost always content that forms the basis of digital marketing—owned media. Almost every message your brand broadcasts can be considered content, whether it's a page about yourself, a description of your products, a blog post, an eBook, an infographic, a podcast, or a social media post.
Search engine optimization (SEO) can boost your search and organic traffic by converting your website visitors into leads and customers.
Start by deciding what content can help you reach your marketing objectives, then incorporate it into your digital marketing strategy.
A website's About Us page will not be included in your strategy if your goal is to generate 50% more leads than last year, unless that page has been a lead-generation machine in the past.
For your digital marketing strategy goals, here's a quick procedure for identifying owned content.
Make A Content Audit.
Ranking each item based on what previously performed well against your goals will help you identify what works best now.
Ranking your content is a good way to determine which pieces generated the most leads over the past year (such as a blog post, eBook, or site page).
In order to plan future content effectively, it is important to understand what is currently working, and what isn't.
Your Existing Content May Have Gaps. Identify Those Gaps.
Check the content you have based on the buyer personas you have identified.
You might create study methods for math tutoring companies that know that finding effective ways to study is a major challenge for their personas.
Depending on your content audit, you might find that eBooks hosted on a certain type of landing page convert really well (more so than webinars, for example).
Your content creation plan might include an eBook about "how to make studying more effective" for this math tutoring business.
Plan How You Will Create Content.
Determine the type of content that you'll need to help you reach your goals based on your findings and the gaps you've identified.
Included here are:
Titles
Arrangement
An objective
Channels of promotion
Creating content for a particular reason
Defining a content's priority
If you are planning to outsource the content creation or if you are producing it yourself, a spreadsheet can be used as well as budget information.
5. Earned Media Campaigns Should Be Audited And Planned.
You can figure out where you should focus your energy by analyzing your past earned media against your current goals. Rank the earned media sources according to their effectiveness (if you want traffic and leads).
Traffic Analytics' Sources report can help you find this information.
It is possible that you found out that a particular article you contributed to a trade publication drove a lot of qualified traffic to your site, which resulted in boosted conversions. Or it could be that people share the most content on LinkedIn, which resulted in increased traffic.
It's better to get a sense of what types of earned media will help you reach your goals (and what won't) by looking at historical data, but don't ignore something new that you like.
6. Make Sure Your Paid Media Campaigns Are Audited And Planned.
The process involves evaluating your existing paid media across each platform to determine what will help you reach your current goals (e.g. Google AdWords, Facebook, Twitter, etc.).
AdWords can be a great tool for attracting customers, but if you're not seeing the results you'd hoped for, it may be time to refine your approach or abandon it altogether in favor of another platform.
Your paid media strategy should now include a clear understanding of which platforms you should continue to use and which ones to remove (if any).
7. The Key To A Successful Digital Marketing Campaign Is Coordination.
Your digital marketing strategy has been formulated based on research and planning, and now you have a clear vision of its elements.
Here are the key points you need to clarify:
Your buyer persona(s) should be clearly defined
Identify and achieve at least one digital marketing goal
This is a list of all the media you own, earn, and pay for
Assessing your current earned media, owned media, and paid media
Plan or wish list for owned content creation
Here are a few basic marketing strategies commonly utilized by teams across a wide range of industries to provide a better understanding of what digital strategies involve.
Strategies For Digital Marketing
1. Blogging is the best way to get noticed.
In order to market your business digitally, blogging is one of the most important steps you can take. Business owners who want to attract customers genuinely interested in their products and services can still benefit from blogging, despite a few dissenting voices claiming blogging is "a huge waste of your time."
It's because well-written, well-researched blog posts often address customers' urgent needs. Therefore, our blog addresses these topics:
Rather than blogging just for the sake of blogging, write content with the intent to solve customer problems. To do so, make sure you understand your target audience and their pain points.
2. Utilize Specific Advertising Platforms (E.G. Google Adwords, Facebook Adwords, Instagram Adwords).
Blogging organically isn't the only way to succeed. Additionally, you should implement non-organic games, such as paid advertising. This will help you reach audiences that you cannot find organically. Not only will this increase brand awareness, but it will also help you reach audiences that you can't reach organically.
A few types of advertising you can add to your digital strategy if you're just starting out and don't yet have enough traffic.
Using social media to advertise
Search Engine Marketing (SEM)
Search engine marketing with Google
Advertising on the Internet
A majority of platforms offer the option of advertising - either through a display network (like Google's) or through a self-serve advertising portal (like Instagram, Facebook, and LinkedIn).
You don't have to worry about content or SEO when it comes to advertising. You just need to write a few lines of copy, select an image, and launch your campaign. If you want your campaigns to succeed, you'll want to develop an advertising plan that outlines your target audience, how much you plan to spend, and which channels you'll use.
3. Educate The Public For Free.
You need to offer additional value in exchange for their email address when you market digitally. If you want to nurture visitors into eventual customers, you need to offer them additional value in exchange for their email addresses. Even though the gated content is free, users must provide their contact information in exchange. This is known as lead generation, and it's crucial.
A landing page that offers one educational resource can be created to offer free resources, such as a book, a guide, a template, or a kit. Think about what your customers need to do their jobs successfully on a day-to-day basis. Create a resource to support them.
The visitor should be encouraged to download the resource for free by following the landing page's best practices. Limit the use of navigation menus, remove extraneous information, and remove links that take the visitor away from the landing page. They should only be able to download educational content.
4. Your Digital Content Should Be Optimized For Search Engines.
Your digital strategy should include SEO. This promotes your blog content and educational offers and helps you rank keywords related to your products.
Investing in an on-page SEO strategy can help you get your product pages in front of people who are searching for those products or services.
5. Contests and giveaways can be created online.
As you gain followers and leads, you can convert them into customers by generating brand awareness online and boosting your digital strategy.
In some cases, giving away a physical product or service is a more effective way to effectively market a consumer product. For example, a beauty brand might give away beauty products, while a photographer might offer a free portrait session. You can certainly modify this strategy to suit your needs, such as providing a complimentary product box to your first customer who signs up for your mailing list. That's one example.
6. Webinars can be organized.
You can choose webinars as an alternative to contests if you don't feel a contest is a good fit for your business, particularly if you operate a B2B business. As well as providing interested leads with a chance to hear about your products and services directly from a company representative, they help educate the public about your products and services. Thus, they can ask questions and receive answers right away.
Your website might need a webinar page if you sell a complicated product. Make sure you list both upcoming webinars as well as past webinars there. With educational content, your customers can learn more about your products in an interactive format, and prospects can get more information about your products.
7. Podcasts should be produced.
You just have to look at how Clubhouse and Twitter Spaces have battled it out for market share if you want to see why audio marketing has been on the rise. Podcasting differs from platforms such as Clubhouse, but the idea is the same: You can educate and engage an audience while they're on the go. All they need is an audio device.
In addition to search engines and social media channels, podcasts can become a powerful element of your digital marketing strategy. Additionally, it's a more unplanned, natural medium — but of course, you should carefully plan each episode and make sure your audience gets what they need.
8. A campaign should be created for email marketing.
Among the most effective digital strategies, today is email marketing. It provides many opportunities to nurture your customers who are eager to buy your products. In any case, a business shouldn't email customers who haven't signed up for its mailing list anyway. After all, you wouldn't subscribe to a newsletter that doesn't interest you. It doesn't have to unless it wants to risk diminishing email deliverability.
Whether it's through your blog, contests, or webinars, you have the freedom to target subscribers with email marketing. Whenever someone gives you their email address - and when they consent to receive emails from you - you have permission to send them an email.
Based on your research thus far, it's time to come up with a cohesive marketing strategy document that lays out the steps required to achieve your goals.
Template for Digital Marketing Strategies
Using a spreadsheet to map your digital marketing strategy can be quite efficient, but it can quickly become messy and overwhelming.
We have created a free template for you to use. With our free digital marketing plan template, you can plan your digital marketing strategy for the long term - usually six to twelve months in the future.
Your marketing strategy includes your budget, specific channels, and metrics, and this template will walk you through your business summary and initiatives.
Using this digital strategy template, you can plan out your yearly digital marketing strategy and tactics and overlay the timeframes when you and your team will execute each.
Here are some examples:
Throughout the whole year, you will update your blog once a week, starting in January.
Paid promotion will accompany the launch of your new eBook in March.
During July, you'll be preparing for your busiest business month ever - what insights do you hope you'll have gained at this point that will direct the content you create?
To drive additional traffic during the run-up, you'll prioritize earned media such as PR.
As a result, you will be able to communicate your plans with colleagues through a structured timeline.
The following examples of digital marketing campaigns and their strategies will hopefully be inspiring for you.
The following are examples of digital marketing campaigns
The foundation
The OMSO
Observer
1. Advertiser: Paid
Beige, an accessory brand, recently introduced a new feature for one of its products through a social media campaign that showed rather than told.
An advertisement showed how the brand's product performed before and after some material changes in a 34-second clip.
Secondly, they make sure that transcripts are included in the video to ensure that it is accessible to those without sound. I think this is a fantastic campaign, because not only does it highlight an improvement in the product, but it also shows the brand is constantly improving.
2. Media: Omsom
In addition to sharing behind-the-scenes content, recipes, and culturally relevant content on TikTok, Asian food brand Omsom focuses on sharing behind-the-scenes content on its Instagram page.
According to a recent video uploaded by the brand, its co-founder explains how one of its key ingredients is sourced and why it chose to use more difficult methods.
This was what Omsom did right: they built excitement around their product while emphasizing their brand's values.
Your customers will appreciate your behind-the-scenes content and your mission and values will be highlighted simultaneously.
3. General: Paid advertising
According to consumer reports, The General was untrustworthy because of its low-budget ads.
Using basketball star Shaq as a spokesperson, the brand introduced its new and improved look.
As well as mentioning how many people they have helped and how long they have been in business, they also emphasize their credibility.
In addition to changing consumers' perceptions, brands can also demonstrate their audience sensitivity by addressing negative perceptions head-on.
Get more out of your digital presence with these marketing strategies
There is no one-size-fits-all strategy template for digital marketing, as each document is unique to your business.
You've nailed the basics of creating a digital strategy if it communicates the steps you're taking to achieve your goal over time.
Got questions? Visit us @ www.sirkle.com and we're happy to help.