Online Marketing: 10 Ways to Make It Work

---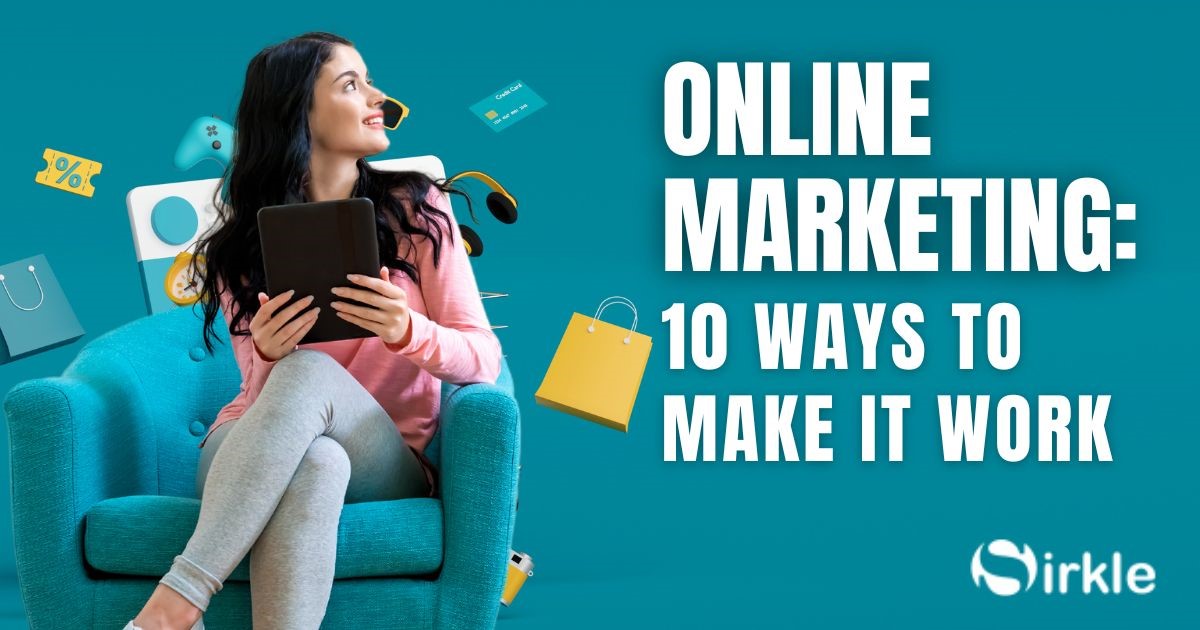 ---
Media In Social Networks
Social media presence is essential in today's society, since over 240 million people use social media in the United States alone, between the ages of 16 and 64.
The cost of joining, sharing content, and commenting on other social media posts is zero. Since social media platforms vary in popularity and demographics, do not rely on one platform. In the U.S., for instance, YouTube and Facebook are the most popular. A majority of consumers under 30 use TikTok, Snapchat, and Instagram.
Marketing Through Influencers
It is a form of advertising in which companies use an influential person to advertise their products and services, especially on social media. It is expected to be worth $13.8 billion by the end of 2021.
You cannot use an eco-living enthusiast to advertise plastic products since your target audience will follow your influence of choice.
Direct payment to influencers or indirect payment via PR packages is both common.
Google Business Profile Creation, Verification, and Optimization
By listing your business in Google Business Profile, you can appear in Google Maps and during searches for businesses in your area.
Add all business details to your Google business listing to improve ranking on search engine results. Once you have verified your details, you can edit and optimize your page.
Content Marketing In The Digital Age
To generate leads and convert them to customers, digital content marketing focuses on delivering relevant, valuable, and consistent content.
In addition to emails and blog posts, videos, infographics, podcasts, and webinars are some forms of digital content marketing.
There is quite a bit of interest in content marketing.
According to the content marketing survey conducted in 2021, 82% of marketers currently use it, up from 70% in 2020.
A digital content marketing strategy is also imperative because 47% of consumers view up to five pieces of content before contacting you.
Having said that, what type of content should you be focusing on?
Among the top three content strategies for free online business advertising are videos, blogs, and infographics. The videos, blogs, and graphic designers can all be created for free, but you can always pay for an extra professional touch by hiring a videographer, blogger, or graphic designer.
Located at:
In about 0.05 seconds, prospects form an opinion about your website and increase your brand value, sales, and leads.
Although free websites are cost-effective, they are not Search Engine Optimization (SEO) friendly, and therefore may not appear in search engine results.
If a visitor has a bad experience on a website, 88% are unlikely to return in the future. Invest in a well-designed and well-developed site that offers a great user experience.
Optimize Your Website For Search Engines (Seo)
You'll only have to pay for a high-quality website if you want to use search engine optimization for your business.
A strong search engine ranking increases brand awareness and visibility for your website through SEO techniques.
The website must be optimized for Core Web Vitals such as mobile-friendliness, safety, and trust.
Advertising On The Internet For A Fee
Your social media profiles are optimized for SEO, you have a website, and your Google Business Page is created, but you still want to take advantage of the power of social media to boost your business.
The organic growth of your reach is achieved with free advertising, but the growth is very slow due to the low ad spend.
Can you explain?
There's no guarantee that your search results will appear first.
The click-through rate for results on page two of Google search results is less than 1%, so paid digital advertising is crucial to maintaining position one.
You should consider the following types of paid advertising:
Paid Search Ads- These ad campaigns can lead to your ad appearing above organic search engine results thanks to strong SEO practices.
Ads on Instagram, Facebook, YouTube, and Twitter are the best way to increase reach. Make sure that you specify your interests, age, location, and gender, among other factors in your advertisement in order to reach the right target market. For your ad to be accepted, please follow the community guidelines.
A number of news sites, websites, and publishers offer display advertising.
The key to success is retargeting and remarketing.
Submit The Company's Information To Major Directories
There are several smaller directories where you should list your business, primarily ones relevant to your niche. For instance, a hotel or travel destination may want to list on Trip Advisor, and a company may want to list on Glassdoor.
Take advantage of the free listings offered by most of these directories.
Reviews From Customers Are Helpful
Reviewing a product before buying it is a requirement for 95% of customers.
Your customers can also review your business in the directories you've listed in. Always respond to negative reviews professionally, no matter how it comes. Ask them to leave honest reviews on their pages and on other platforms with a link back to your business.
Community Participation Online
As a thought leader, you can build brand trust by offering solutions in online communities. The study found that 48% of decision-makers said that thought leadership influences purchase decisions, and 88% said that thought leadership can enhance brand perception as well.
Become an active member of relevant social media groups, websites, and other online forums like Quora. You'll be establishing yourself as an expert, advertising your business online for free, and gaining free, honest market insights.
It's Easy To Advertise Online
Your advertising budget will determine whether or not you can market your business online for free. The use of social media, online community forums and digital business directories such as Google Business Profile is completely free. Websites and digital ads do take a little money to invest in but can give you good returns.
Got questions? Visit us @ www.sirkle.com and we're happy to help.