Online Marketing For Small Businesses: 5 Tips
---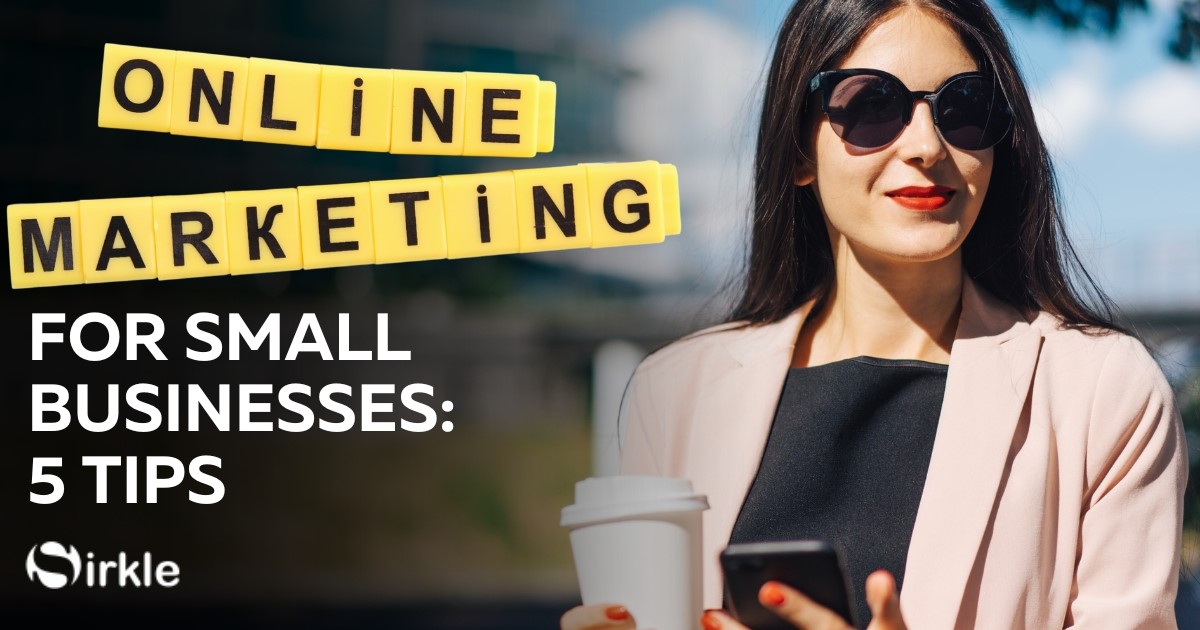 ---
There are many big players in your industry, so it can be hard to attract attention as a small business. Despite the fact that you may lack the funds and resources to market your business as aggressively as they do, there are plenty of internet marketing options available for you to boost your game without spending a cent.
Here are five free marketing strategies you can use to build brand awareness and a strong, loyal following for your small business.
1. Optimize your search engine optimization
You may not want to pay for Google ads. We don't either, so don't worry. SEO is the most effective method for ranking higher in search results. People are more likely to discover you if you rank higher. Our focus today will be on two important SEO strategies to help you market your business more effectively online.
Local SEO
Improve your local SEO strategy to become more visible in local search results. Using platforms like Google My Business, Bing Places for Business, and Apple Maps Connect, you can claim and list your business. Free tools designed to help organizations manage their online presence across search engines and maps.
Traditional SEO
Traditional SEO targets businesses looking to expand their digital reach and rank higher in organic search results, while local SEO targets a particular geographical area. Several industries across the globe are experiencing a boom in eCommerce. Search engine optimization is all about improving the discoverability of your website, product listings, and general content. Content marketing best practices include writing ALT text for images, using effective title tags and meta descriptions, and including a clickable phone number on your contact page.
2. Make use of social media
More than 80% of Aussies are active social media users, and a third of consumers will check out a brand's social media presence before doing business. Despite this, many small businesses overlook social media marketing as a means of growing their businesses. People are constantly engaged with and sharing visual content on social media, an instant connection to the world. If you don't want to spend money on paid ads or hire influencers, you can establish a social media presence on your own. Start posting relevant, useful content in your niche on any platform your target audience uses. Organic followers may become customers if they find your posts helpful and engaging rather than just blatant advertising.
3. Create an email marketing campaign
Most marketing techniques do not outperform email marketing when it comes to ROI. The versatility of email allows small businesses to send newsletters, seasonal offers, and promotions, as well as provide customer support. In addition to being highly customizable, it is extremely affordable as well. For a fraction of the cost of other marketing channels, you can target and deliver relevant emails to specific customers.
4. Create a blog for your business
A business blog can be an effective tool for building credibility and authority for a brand. You can't deny that they are an excellent investment for your business, even though they may take longer than other marketing methods to produce results. Search engines are more likely to display your expertise when you write optimized blogs specific to your industry. By reaching a larger audience, you can also build domain authority and generate traffic. You will find more people if you rank higher in search engines, and your chances of converting them into customers increase. Take the case of a photography business, for instance. You might be hired by people searching for a wedding photographer in Brisbane if they are impressed with the photos you took and your deep understanding of the field if they find your blog post on 'Top 10 photography spots in Brisbane'.
5. Participate in online forums and communities
The purpose of an online forum is to allow people to exchange ideas and interact with one another about a specific topic. You need to find a forum where you can meet prospective customers, participate in discussions, and exchange tips and opinions on topics that relate to your business. Promote your company only in appropriate contexts, however, in order to comply with the rules. Using this method helps you build relationships with potential customers and introduce them to your services at the right time when they are most needed. Among the platforms where you can find dedicated groups or channels related to small businesses are Quora, Reddit, LinkedIn, Facebook, and Flying Solo.
Conclusions
The word-of-mouth method is one of the most credible ways to attract loyal customers. People become more aware of your brand when they talk positively about it to their friends. As a result of these marketing strategies, people check their email, social media apps, and Google multiple times per day while adhering to that humble principle. The internet offers so many free marketing opportunities for your business. It may take some time for these methods to produce results, but when they do, you can rest assured that the prospects they generate will be genuine buyers.
Got questions? Visit us @ www.sirkle.com and we're happy to help.