People's Top Six Website Features
---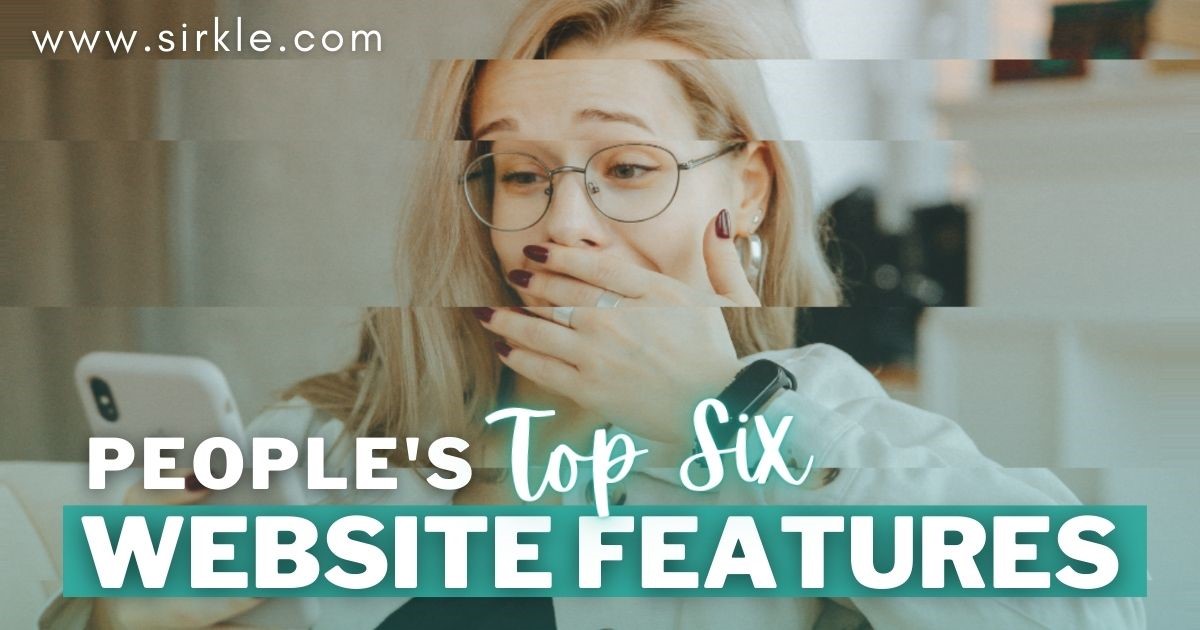 ---
An attractive design, easy navigation, and relevant content are what people are looking for when browsing a website. To maintain audiences' attention, businesses must leverage the features that users value most on their websites.
It has become increasingly important to control how much time people spend on the Internet. People are becoming wary of the internet's impact on their lives since they spend almost 6 hours a day on digital media.
Currently, companies compete to reduce the time users spend online. Users want website features without sacrificing functionality, so businesses must incorporate them into their websites.
According to Clutch, 612 people were surveyed to determine which features of website UX are important to them and which they can live without.
Access to content is more important than trendy designs and features, according to our research. Users prefer website functions and design elements that make it easier to discover relevant content.
Six essential features of a website
These features are the most important to consumers when browsing the web, according to a survey:


Easily navigable
User-friendly, intuitive design
Website content that is relevant and authoritative
Descriptions and visuals of products
Business websites and social media
Company blog


1. The Most Useful Feature Of A Website Is Easy Navigation
A user-friendly and easy-to-navigate website is preferred by most people. The easiest navigation on a website is considered the most useful feature by almost all (94%). Using responses for respondents who rated website features as either "extremely" or "somewhat" useful. Users can access content faster, and more efficiently if a website is easy to navigate. Website navigation is easier when the menu structure is clear. Although Amazon has a large volume of content, it is known for its ease of navigation. As a user navigates and explores Amazon's homepage, a variety of options are presented. Darkening the rest of the screen and making menus easily accessible will help people focus on their shopping categories instead of being distracted by the tempting offers on the home page. Amazon's example should be followed by businesses, which should prioritize user functionality and navigation. Losing potential customers could result from not doing so.


2. Engaging Websites Have Trendy Appearances
Your target audience will be attracted to your site if you use trending web design elements. Your brand's reputation is enhanced by beautiful and appealing designs.
The majority of people (83%) believe that a website's aesthetics are important.
Businesses need to prioritize the user when redesigning their websites. It is good to have beautiful and updated designs, but not if the trendy design prevents them from accessing the website's content and using it.
Web Design Styles: 3 Trends
These are three of the most popular styles of web design:
A flat design eliminates drop shadows, gradients, and other textures to make objects appear two-dimensional
A skeuomorphic design mimics the physical world so that digital elements appear more familiar
A rich design makes website navigation more tactile, three-dimensional, and usable
3. Establishing Brand Authority Requires Website Content
The purpose of visiting a website is to access the content. Businesses establish brand authority by creating content that is tailored specifically to their target audience.
A website with irrelevant content will be abandoned by half of the visitors (50%) permanently.
Content Types for Websites
On a business website, you will find three types of content:
Information about the company: External links to its social media profiles or a company's "About Us" page
Product Descriptions and Visuals: Descriptions of products and services offered by a company
Blogging: Long-form written or video content that discusses current trends in business, company news, or other topics related to the industry
4. The Importance Of Product Visuals And Descriptions Cannot Be Overstated
Visuals and descriptions of products and services are equally useful to consumers when visiting a company's website.
When browsing a website, almost everyone (91%) finds both descriptions and images useful.
When consumers browse company websites, they seek both attractive and informative content. It is important for businesses to not ignore the importance of visuals on their websites.
Is there anything that makes a website more attractive?
It is important for companies to think about how to create an attractive website design that balances both informative and visual content.
Customer-friendly features make websites more appealing:
If you publish a website with white space, it remains blank or white when it is designed
Combining large images with whitespace breaks pages up into skimmable sections
Make sure your website features are as easy to use on mobile devices as they are on desktop computers (e.g. add a menu bar for easy navigation on mobile versions)
5. A Company's Website Is An Extension Of Its Social Media Presence
Visitors to a company's website need access to social media accounts.
It is extremely or somewhat helpful (67%) to have links to social media accounts
The links to social media profiles are extremely helpful to almost 40% of website users (37%) according to a survey. They are only considered useless by 13% of respondents.
Among website users' favorite features, social media account links appear below descriptions and visuals, but above company blogs and "About Us" pages.
Facebook and Twitter offer immediacy, which may explain this preference for social media. Social media profiles often provide the same information as an "About Us" page but in an easier-to-access format.
6. It's Still Valuable To Have A Company Blog
It's no secret that people prefer product descriptions and visualizations over company blogs - but that doesn't mean businesses shouldn't create them.
There is a 50/50 split among website users when it comes to the value of company blogs - half believe they are valuable, and half believe they are not.
Twenty-three percent of people find company blogs extremely useful, but 21 percent do not.
It is important for businesses to prioritize the features users prefer on their websites
People's preferences should be taken into account when designing a new website. Companies must create websites that provide the features that potential website visitors find most useful in order to make them spend less time online.
Creating a new design should prioritize easy navigation features. A company can create an intuitive user experience by adding simple, responsive navigation toolbars and menus. To create an evergreen design that people will still find modern, businesses should combine current trends with timeless design elements.
Online conversions are driven by engaging website content. A company should display content in a way that's not overwhelming so people can see both images and written product descriptions.
It is true that people aren't spending as much time online reading company blogs, but in order for websites to rank high in search engine results, they need thoughtful, relevant content on their blogs.
Increasing web traffic and conversions can be achieved by putting website users' needs first. People only need to listen to what they really want. Do you want to learn more? Visit our website at https://www.sirkle.com.