Social Media Marketing For Small Businesses
---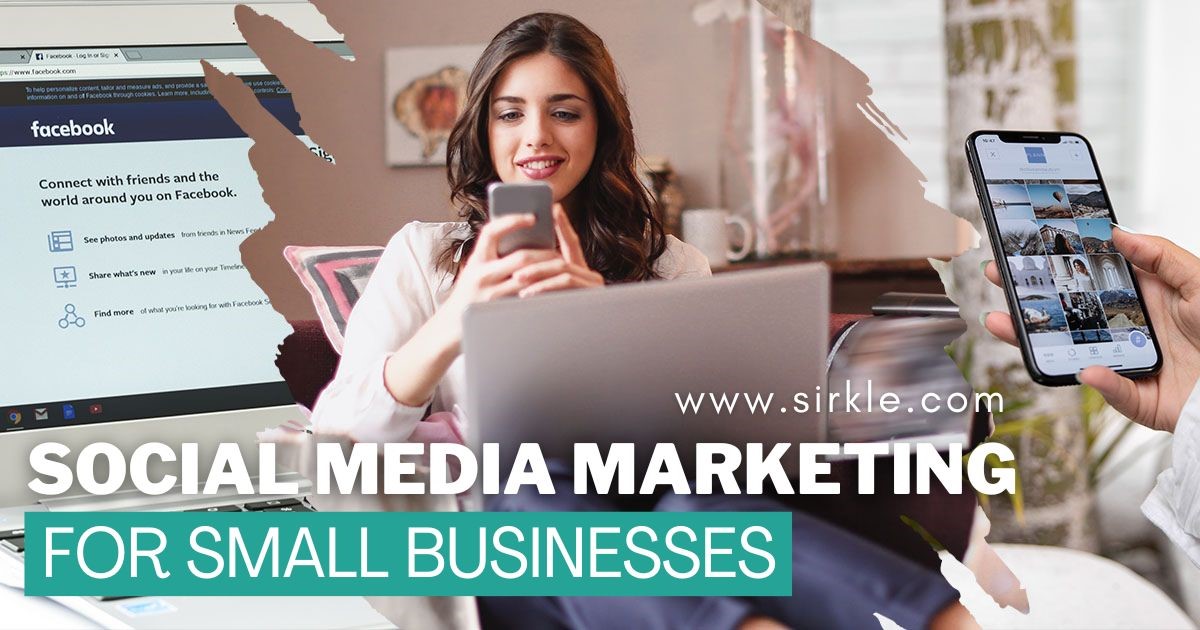 ---
Using social media to market your small business in 2022: The Ultimate Guidesingle post. It's teeming with opportunities for business growth. But you have to be creative, diligent, and bring out your best people skills to thrive on social networks.
Putting Social Media to Work for Small Businesses 2022: The Ultimate Guidevast online space. We created this social media marketing guide to help you elevate your small business online.
2022's Ultimate Guide to Social Media Marketing for Small Businesses22.
1. Establish clear and realistic goals
As with any other task, social media marketing requires strategic planning and execution.
Setting clear and realistic goals is the first step. Measurable goals are essential for tracking performance. Ask yourself the following questions when setting goals:


Social media goals: what do you want to accomplish?
My business can benefit from social media. What can I do to make it happen?
Which audience should I target?
To reach my target audience, what marketing strategies should I use?
Is social media a good way to market my products?


Your business' social media goals can help you assess how it can grow through social media. The path to success is more difficult without goals.
Identify goals that are relevant to your business, such as expanding your audience, establishing credibility, or generating leads. Business growth is the ultimate goal of any for-profit company.
2. Develop the personality of your brand
You will succeed or fail based on your personality on social media. There is almost always a standout personality behind successful businesses on this platform.
The same goes for your brand. You need to have a distinct personality for your business so that people can relate to it. Additionally, you can distinguish yourself from your competitors by having a unique personality. A faceless brand rarely interests people because they prefer to interact with other people. Hence, you must inject personality into your social media presence in order to make engagement with your brand exciting and fun.
3. Social media platforms to choose from

It is estimated that Facebook, Twitter, YouTube, Instagram, and TikTok are the five most popular social media platforms in the world. Strengths and weaknesses are inherent in each.
Five new networks can seem overwhelming at first. Having a presence on all five isn't necessary for social media success.
Businesses that succeed use only a few social networks that are most suitable to their needs.
Facebook, for instance, provides more value to businesses that have older consumers. Gen Z and Millennials are the most likely to buy from you if you leverage TikTok. For businesses that sell merchandise that is visually iterative (like clothing), Instagram is the best platform. For service businesses that would like to educate their potential customers, YouTube is a great tool.
Your target audience ultimately determines what you should do. Choose the best platforms for your business based on your research, study how your competitors use them, and study how your competitors navigate them.
4. Make sure you understand your audience
Your business' success depends on knowing your audience.
Identify your target market by conducting market research. Check out your analytics and see what content encourages stronger engagement if you're already on social media. Find commonalities:


Relationships
Triggers of behavior
Affiliations
Facts and figures


Your brand will achieve better results if you know your audience well.
5. Reach out to more people
Your audience can grow through social media. You can accomplish this in many ways, including advertising, content marketing, influencer marketing, and others.
It is important, however, to communicate with your audience in a way that appeals to them in order to grow your audience and catch people's attention.
6. The USP of your company should be highlighted
It is not uncommon for people to see the same messages, products, and services from millions of businesses. It's difficult to differentiate between many products because they look identical.
Considering all the noise around you, how are you going to stand out? Whenever you undertake a marketing campaign, emphasize your unique selling proposition (USP). In order to succeed, you must have a USP that catches people's attention.
The product and service you sell aren't all you're selling. In your marketing, you're trying to convince people to buy your brand's products. Your company must tell people what makes it worth investing in. Make sure they know why you're the right person for the job every time you talk to them.
7. Tools are important
If you do not know how to use social media effectively, it can be overwhelming. Managing your platforms can be easier if you have the right tools.
Post on fewer platforms instead of posting on all of them. To simplify the process, use free or inexpensive automated tools.
8. Develop a social media marketing strategy
You will lose money if you market on social media blindly. The results you see on all platforms may not be what you expected. Setting specific goals requires a targeted strategy.
The following are important components of a successful social media strategy:


Goals related to social media marketing that are aligned with business objectives
The target audience should be understood well
Analyze your competitors
Audits of social media channels
All platforms must have legitimate profiles
Content calendars that are organized
A well-written article
Performance tracking that is consistent


Social media can be a distraction. Focusing on business growth can be achieved through an excellent social media strategy.
9. Progress evaluation and tracking
Key performance indicators (KPIs) can help you track your social media progress.
Comparing the data you have to your goals will help you identify how to proceed. Identify your most successful content, your most engagin,g goals, and more.
You should study the insights and analytics after you launch a new Instagram campaign. Once you start a new campaign, you will be able to see which areas need improvement or could be focused more on.
You may not succeed right away, but don't lose hope. Getting success on social media rarely happens overnight.
In 2022, here are 5 tips for social media marketing
Following are five social media marketing tips for 2022 that can help you keep your online marketing on track:


Authenticity is key. Being genuine is one of the secrets to social media success. Authenticity and candidness are highly valued by consumers. Engage your audience with real stories. Branding should make people feel comfortable and welcome.
Take part in trends. Trying new experiences is one of the most important aspects of social media. Take part in trends without being afraid. TikTok and Instagram are popular platforms for brands to promote brand awareness based on trends.
Generalized platforms shouldn't be done. There is a specific audience for each platform. Keep your messages tailored to each platform and avoid generic messaging. Be true to your brand voice and never compromise it.
Emoticons are useful. A fun message can be created by using emoticons. Are you trying to avoid sounding too serious? Make your mood lighter by using emoticons. Emoticons are popular for expressing emotions online. Engaging as a brand shouldn't be any different. Keep it in check, though.
Do not use content that is not of high quality. Your communication strategy can be informal, but your brand visuals should always be professional. Your platforms should never feature low-quality images or videos.


A consistent, adaptable, and flexible approach to social media can help your business succeed. Your ultimate goal is to grow your business faster using social media, so have fun, test new ideas, and never lose sight of what you're trying to achieve. Do you want to learn more? Visit our website at https://www.sirkle.com.