The 10 Most Effective Ways To Promote A Local Business

---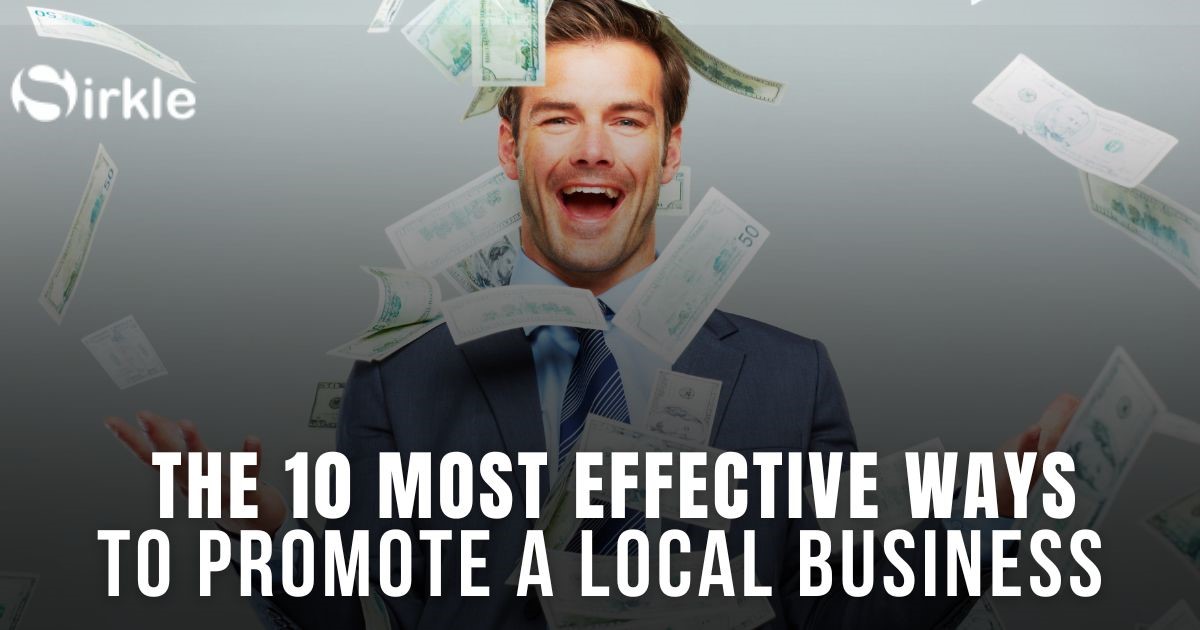 ---
If you want to stand out from your competition, you need to know how to market your small business locally to relate with local consumers, be part of the community, and be part of the community. Taking advantage of local marketing initiatives is a priority because there are fewer customers in your area, not to mention your competitors are vying for the same customers as you.
This guide offers 10 different marketing strategies to help you stand out from the competition and attract local customers.
Local Marketing Strategies For Businesses
Local marketing requires both digital and in-person tactics to engage potential customers. There is no single marketing plan that will bring in local customers.
1. Blogging
The use of blogging is an excellent marketing tool to drive visitors to your website. It can attract customers from all over the world to your site, and most importantly, it can promote your business locally, regardless of whether you are an e-commerce company or an in-store business.
Creating a successful blog requires a search engine optimization (SEO) strategy that's backed up by a keyword research strategy that's based on keywords people are searching for.
If a law firm in Austin, Texas, wondered how it could get more clients with workplace injuries, it might wonder how it could increase its client base. Through local keyword research, it determines that many people in Austin have questions about "work injury laws in Austin." Using SEO optimization, the blog becomes a topic and helps the business's website increase its local search engine ranking.
The first step to creating content that drives traffic and results is discovering what your audience search for. Free keyword research tools will allow you to plan out your strategy and choose the most relevant and popular search terms in your area.
2. Marketing Your Business On Social Media
Local business owners and customers frequently interact through social media channels such as Facebook and LinkedIn.
In order to keep your business relevant and accessible, you should be active on social media channels and be ready to respond to queries and comments.
Facebook pages can be used to promote sales events, seasonal sales, or contests. Keeping your posts relevant to your local market is an important part of how to market your business locally, so you should tap into what makes your community unique and use messaging that is relevant to them.
By networking on LinkedIn, you can open the door to collaborations, partnerships, and events with other local business owners.
3. Make Your Listing Or Directory Available Locally
A local listing for your business can be submitted by professional associations or your Chamber of Commerce, depending on your industry. Local directories like Yelp let customers research your company before making a purchase by placing your company on the radar of local consumers.
In addition to uploading photos and writing your business description, adding your address and phone number, responding to reviews, and more, your Yelp Business Page gives you a one-stop shop for all of your business needs. It is free and easy to claim or add your Yelp Business Page.
4. Display Ads That Are Localized
Your marketing campaign can be enhanced by adding local digital ads, which give you access to a local audience you might not otherwise reach. Local digital ads work primarily because you can target specific audiences in your local area.
SEM (search engine marketing) is your first option. When locals search for your products or services, they see your ads at the top of the results. Your ads are tailored to a specific target audience and can include specific terms so that your business appears at the top of search results.
For example, say you own a salon in Detroit, Michigan. You might purchase ads that appear when people search for "best salon in Detroit." This will put your salon at the top of the search results before all your rivals.
The popular platform Yelp offers cost-per-click (CPC) and pay-per-click (PPC) ads as well. You can promote your business above search results and on competitor business pages using Yelp Ads on the Yelp site or mobile app. Also, you can pause your ads at any time, and only pay when someone clicks on your ad, ensuring that your investment is going to customers that are more likely to spend.
5. Direct Mail Is A Great Way To Reach Out To Your Audience
It is important to consider traditional marketing strategies when you are considering how to market your business locally. Despite being around for quite some time, direct mail campaigns are still highly effective, especially if you are targeting people who don't use social media or email very often.
Direct mail has been shown to influence 87% of recipients to purchase online when they receive a physical brochure. Regular internet users see many advertisements every day.
You should include your business name, contact details and a coupon or voucher on your brochures. For example, if they want to receive a discount, they need to show the brochure by a certain date at your business. Also, make sure you include a call to action telling them what they need to do next.
A local newspaper ad in the classified section can also be a good investment if you are targeting a specific market.
6. Subscribe To Your Mailing List And Grow It
91% of companies report that email marketing is critical to their companies' success, proving the effectiveness of this strategy. Email marketing isn't a new concept, but it remains a powerful way to increase customer acquisition and retention, convert leads to customers, and build brand awareness.
Adding demographics to your email list, including age, location, and interests, will help you market even more effectively. But how do you get people to sign up?
Make it easy for customers to sign up on your website, blog posts, or at your business by adding sign-up forms and calls to action. You can even offer discounts if they sign up in-store.
7. Participate In Community Activities
You can show prospective customers how much you care about your local community and how much you contribute to it organically by being a member of the community. To promote your brand while giving back to the community, consider participating in fundraisers, volunteering, or local events.
In addition to donating the proceeds to a good cause, you can gain foot traffic by holding a fundraising event at your business.
8. It Is Important To Promote Loyalty Programs
It can be beneficial for you to implement loyalty programs to increase repeat business and customer loyalty within your business. Customers will more likely patronize your business if they know that they will receive a perk after every purchase (or after a certain number of purchases).
Discounts or complimentary products or upgrades could be offered to members as incentives to purchase.
Your cafe, for instance, may offer loyalty cards to its customers and reward them for every purchase with a stamp. After a certain number of stamps, they can receive a free coffee. In addition, a free gift with purchase could be offered if they spend a certain amount.
9. Become An Influencer In Your Local Community
Partnerships with local influencers are becoming increasingly prevalent as a marketing strategy. Social media influencers have a large following online and are able to influence consumers' purchasing decisions.
It can be a relatively inexpensive marketing tactic with high engagement rates within your community if you pay them or offer free products in exchange for posting about your business.
In addition to building trust among their followers, social media influencers can also carry significant weight when recommending your website or goods or services to their followers. Think of it as a recommendation from a friend and word-of-mouth.
10. Promote Referrals
In addition to bringing your high-quality leads, a referral program can strengthen your existing customer relationships. A word-of-mouth marketing strategy is an excellent way to build awareness organically because 61% of consumers trust recommendations from friends, family members, or influencers on social platforms.
If you want to encourage your existing customers to refer to their friends and family, you can start a referral program. Taking advantage of this program could offer customers free shrub trimming or lawn mow when they refer new customers. If they buy from you after referring a friend, they get a free mowing as well.
Make Local Marketing Work For You
Many of the ideas in this guide are easy to implement and won't cost a lot. If you're thinking about promoting your business locally, consider implementing some of these strategies.
Taking advantage of simple suggestions, such as volunteering in your community, starting a referral program, or claiming your Yelp business page, can help you get started. After you've written a blog, partnered with influencers, or run digital ads, you can move on to more labor-intensive ideas. Soon you'll have a wider customer base and a larger reach in your community. Furthermore, you'll be able to start thinking about how to grow even more your business.
Got questions? Visit us @ www.sirkle.com and we're happy to help.