The 4 Ps of Marketing

---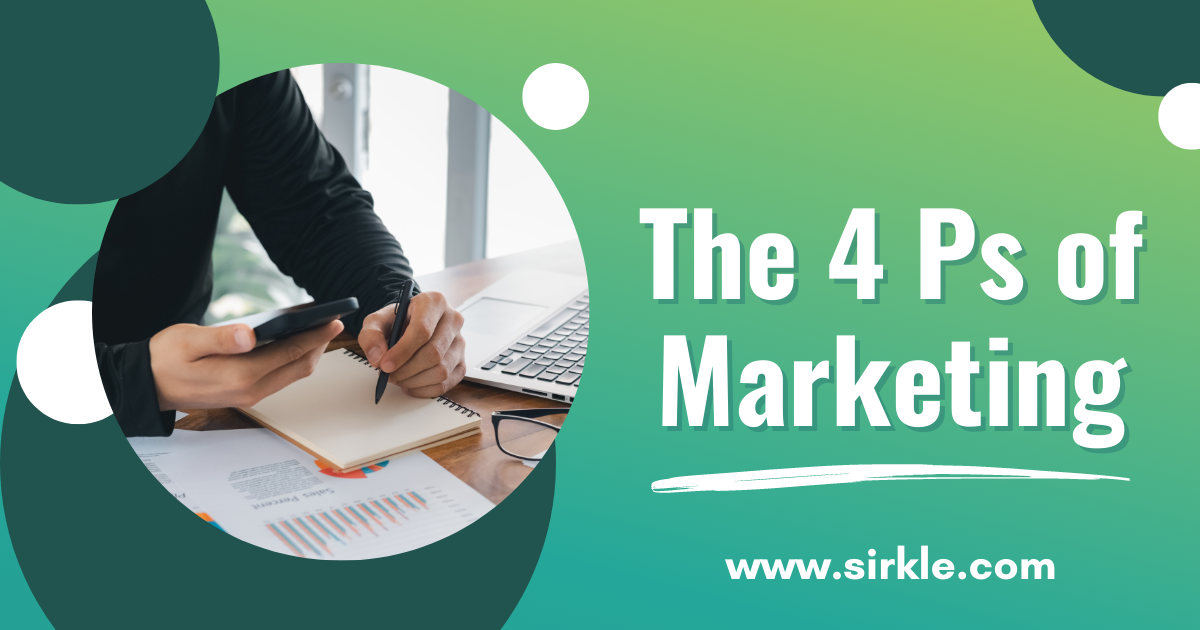 ---
Marketing consists of the four Ps: Product, Price, Place, and Promotion. A flat website is a Place, not a Promotion, so you should still promote it with blogs and personal interactions with your clients. Sirkle can help you achieve this.

In order to meet their marketing objectives and goals, brands must understand what elements must be combined in the marketing mix. All four Ps of marketing are included in this: product, price, place, and promotion.
The digital age has impacted nearly every industry to change and grow to work within this new paradigm, and marketing is no exception. Digital growth has arguably benefited the marketing industry the most.
A lot of tools are available to today's marketers, including customer profiling, artificial intelligence, and response analysis to name a few. Furthermore, the capability of collecting, analyzing, and acting upon vast amounts of information about customers and products becomes increasingly feasible, making the notion of reliable, predictive one-to-one marketing a reality.
Marketing's fundamental principles have been around for a long time. Marketers have had to modify old marketing processes, concepts, and priorities to fit into this new world of communication, including reorganizing them into forms that work better in this new era of communications. Internet technology has rendered some changes in the way they work, requiring them to revise old marketing processes, concepts, and priorities. However, the fundamentals of marketing remain the same.


Marketing's 4 Ps
Product, price, place, and promotion are all part of the 4 Ps of marketing. To stand out from the competition, a brand's unique value must be strengthened and promoted through these important factors.
The 4 Ps are an important marketing strategy that has withstood time and even the rise of the internet age. What are the reasons behind this? Each P is discussed below, as well as how it has remained relevant to marketing.


Product
An item is defined as one that is intended to satisfy the needs and wants of a target market. Intangible items like legal services or cruises can be tangible or intangible (think clothing or software).
For a product to be successfully marketed, marketers must have a clear understanding of what the product stands for and what makes it different from the competition. E-commerce and social media are examples of products available on the internet today, while the internet can be considered either a medium for purchasing or a product itself. Therefore, marketers must fully understand the product they are selling, how it meets the needs of their target customer, and what makes their product stand out.
The following are some of the key questions marketers need to address:


How can you improve your product/service to make it more appealing to customers? Does it meet their needs?
In what ways does your product/service meet the needs of your customers? Are there any features you have missed?
What is the customer going to use it for?
The customers will experience it in what way?


Price
In order to determine whether the product is valuable to target audiences, the product must first be developed. Market data and careful calculations are required for pricing strategy, as well as balancing between pricing that is too high and too low and understanding how skewing, either way, can damage a brand.
In addition to the monetary value of a product, price refers to the amount of effort or time the consumer is willing to spend to acquire it. Profit, supply, demand, and how much marketing should be spent on a promotion or marketing strategy will be impacted by this factor in revenue generation for the brand. In and of itself, this makes this 'P' one of the most important. The product - and brand - could fail if its price is too high or too low.
The following are some of the key questions marketers need to address:


How valuable is the product or service to the buyer?
What will be the price difference between you and your competitors?
Does the product/service have any established price points in the area?


Place
When it comes to reaching your customers, the internet era has introduced new challenges. In addition to providing customers with access to a product, a place also refers to the customer's convenience. Digital marketing or otherwise is all about putting the right product in front of the right customer at the right time, at the right place, at the right price.
The following are some of the key questions marketers need to address:


Where do target customers shop?
Do they use desktops or mobile devices?
Do they shop online for similar products or do they go to brick-and-mortar stores instead?
Where do they engage on social media?


Customers interact with your brand or your specific products in various places, even if transactions with your company take place exclusively in-store or online. The overall customer experience is influenced by each of these places.


Promotion
How do you make an audience aware of your product? Promoting is mostly about marketing communications within the framework of the four Ps.
Basically, these communications come in the forms of public relations, advertising, direct marketing, email marketing, social media marketing, or sales promotions; think of it as any method marketers use to distribute relevant product information to their target customers.
As a result of the digital age, promotions have probably seen the most growth and change. Marketing professionals can now promote products more easily, more effectively, and with greater personalization than ever before, thanks to B2C marketing solutions, which will lead to greater results and higher expectations.
Marketers must answer the following questions:


Who are you targeting? How will you reach them?
Which channel will you use to communicate with your target audience?
What marketing strategies does your competition use to promote their product? How does that affect you?
Is there a good time to promote?


Using the 4 Ps of Marketing
In addition to serving as a guide when deciding how to take a new offering to market, the four elements of the marketing mix can also serve as a way to test your current marketing strategy. You can improve your marketing mix by following these steps:
Analyze the product or service you are interested in.
The 4Ps questions are listed above. Review and answer them.
Try to test your overall offer from a customer's perspective once you've defined your ideal marketing mix. Consider these questions:

Does it meet their needs?
Are they willing to accept the price?
Where can they find this product/service?
Has your marketing communication targeted your audience appropriately and reached them?


Ask questions and make changes to your marketing mix to optimize it.
Maintain a regular marketing mix review to keep up with the changing market.

Our proven marketing strategy helps promote your business.


Got questions? Visit us @ https://bit.ly/2TbHYjr